LessAccounting is a SaaS company that makes simple accounting software for small businesses. And with thousands of customers, they needed a help desk that could keep up.
Wanted a simple app for customer support.
As co-founder Allan Branch explains, the company needed something simple enough for the whole team to use without having to "learn" the software, but powerful enough to keep their customer service personal as they grew.
We want to make the decision as easy as possible, so we've put together some info that'll help you decide which option is best for you.
Below, you'll find information to help you compare Groove and Zendesk, including features, customer experiences, pricing and thoughts from currently Groove customers who have made the switch.
We hope this helps…
1) Groove is easier than Zendesk.
Tired of having to struggle your way through clunky and complex dashboards, macros, triggers and all sorts of features you never use?
With Groove, you won't have to. All you see when you log in is your simple inbox:
Your Groove inbox updates in real-time, so you don't have to keep refreshing to see new emails.
You'll get awesome core features like simple automation, canned replies and reporting, without having to navigate a maze of features you don't need.
And if you ever want to enhance Groove beyond the core help desk, you can do that with any of our free Groove Add-Ons.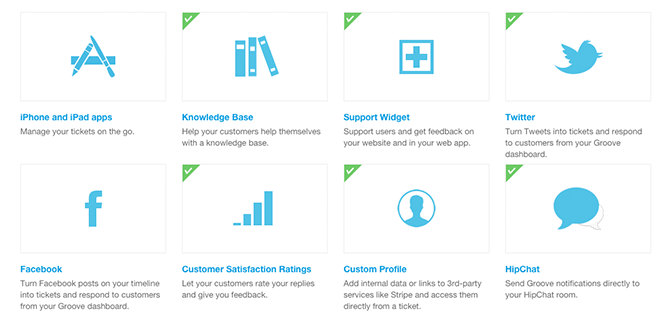 2) Groove is more personal for your customers.
You love your customers.
And Groove makes it easy to show it.
Your customers will never have to go through a login portal to get help, or try to dig through their email for a ticket number.
Groove looks and feels exactly like email to your customers: