Trusted by some of the world's best



Live Chat that matches your brand.
Get creative with endless customization options to ensure your customers always know who they're talking to.
Customizable colors to match your brand
Choose from 20+ notification sounds
Add your company logo & Bot avatar
Select which agents to show or hide
Remove Groove branding
"Groove's Live Chat feels like it's part of our company and brand, and took less than 2 minutes to setup. Amazing."
Never leave a customer hanging!
Set up smart automations to step in when your team is away, too busy, or if a customer drops offline.
No agents online

Have your bot let your customers know that no agents are online, grab their message, and inform them that an agent will reply as soon as they come online.

Busy agent bot

Use bots to welcome your customers, grab their email address, and let them know an agent is on their way.

Office hours

Set up a bot to let customers know if their message is outside office hours and when to expect a reply.

Email continuation when the customer drops offline

Keep the conversation going via email even if customers drop off Live Chat.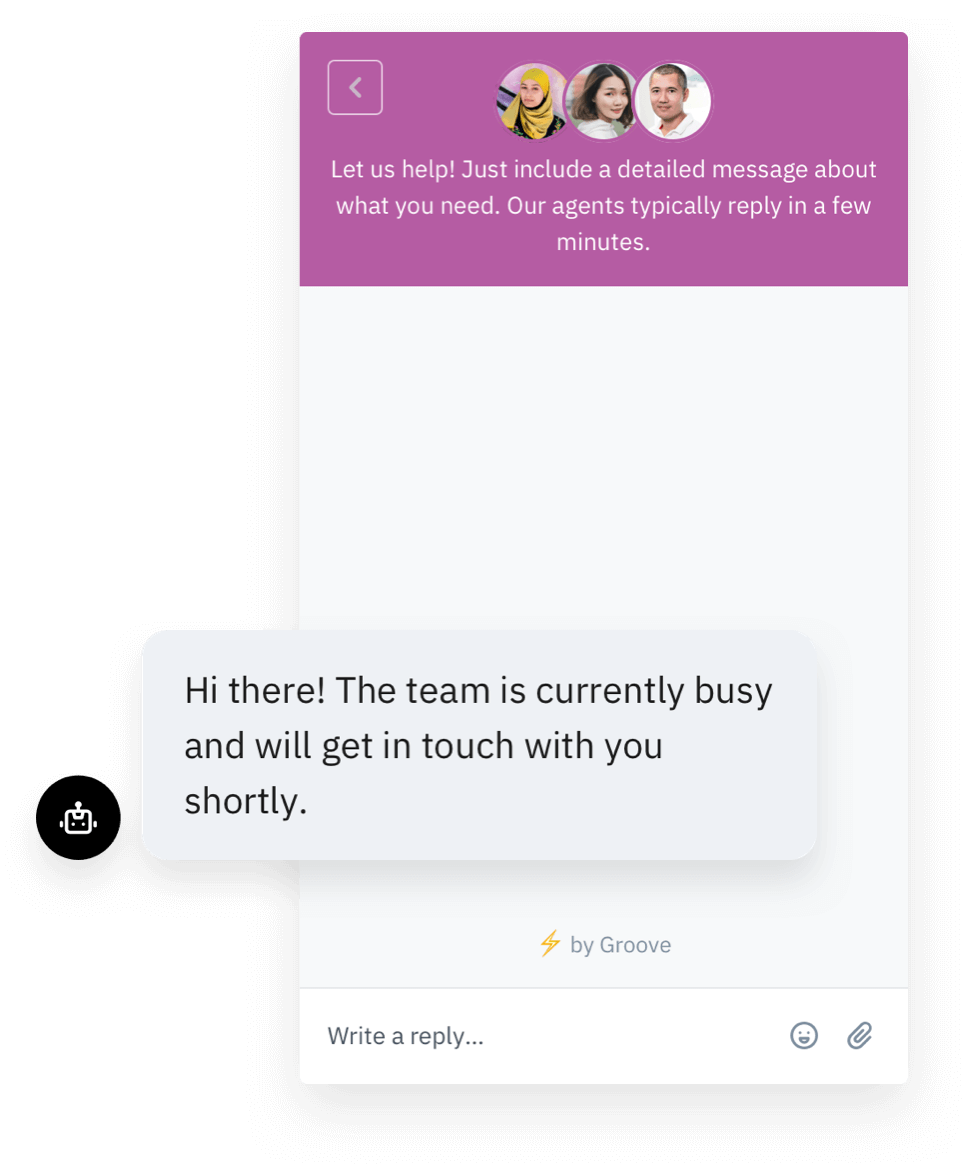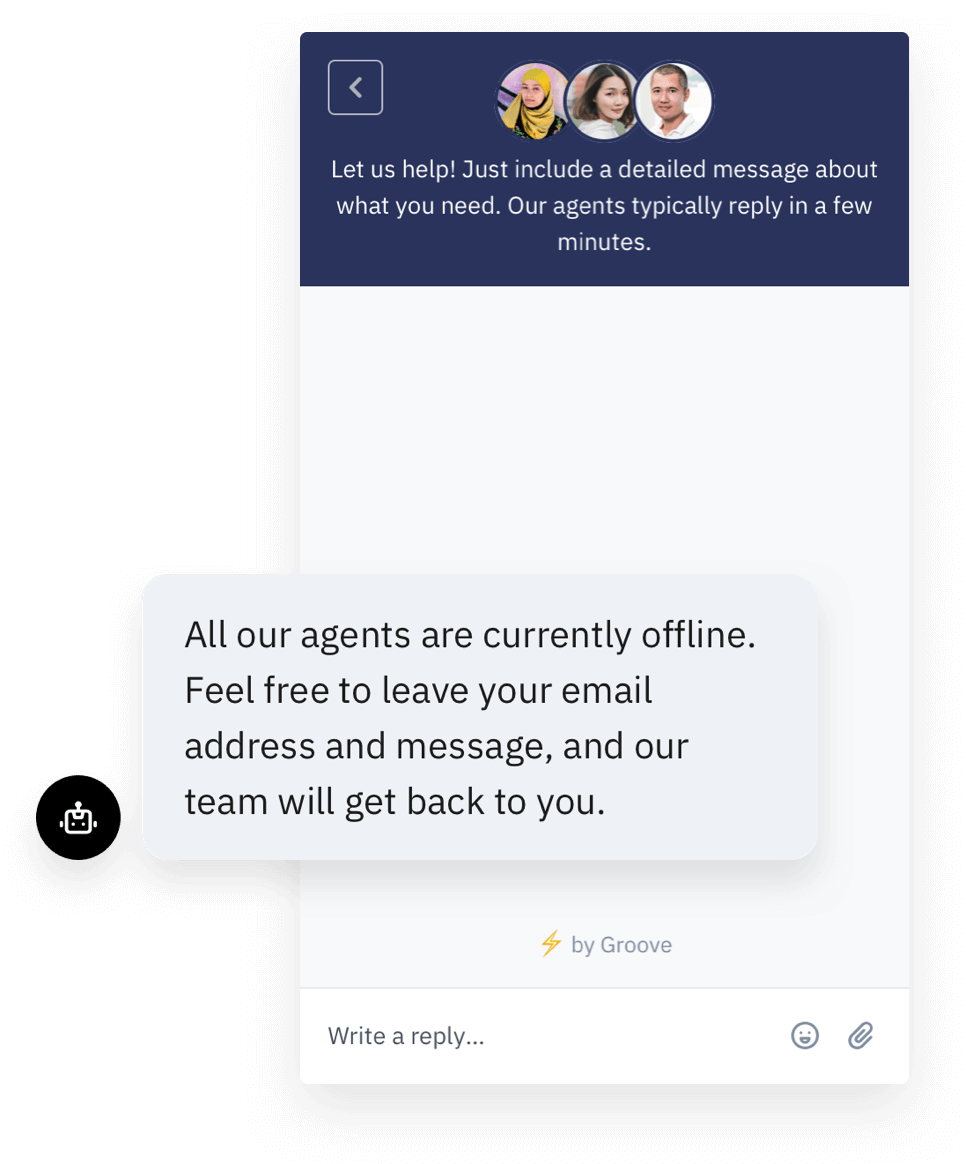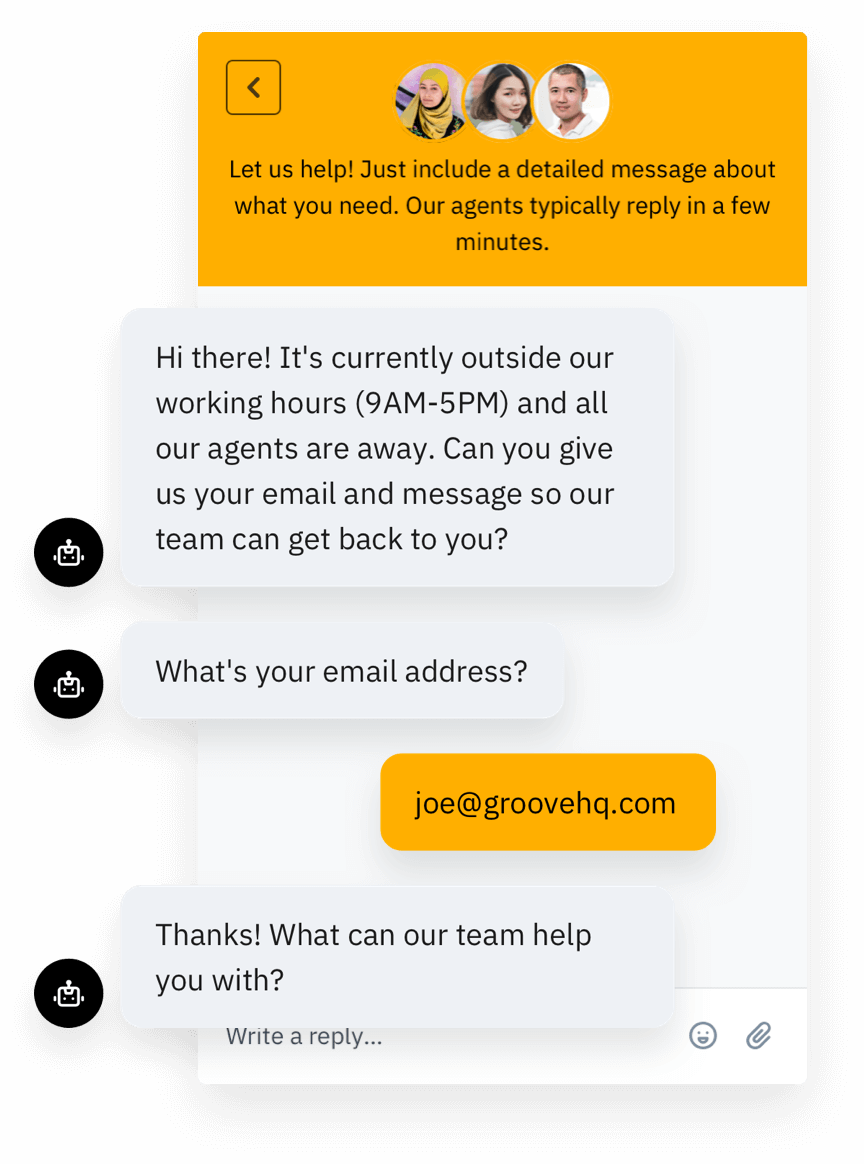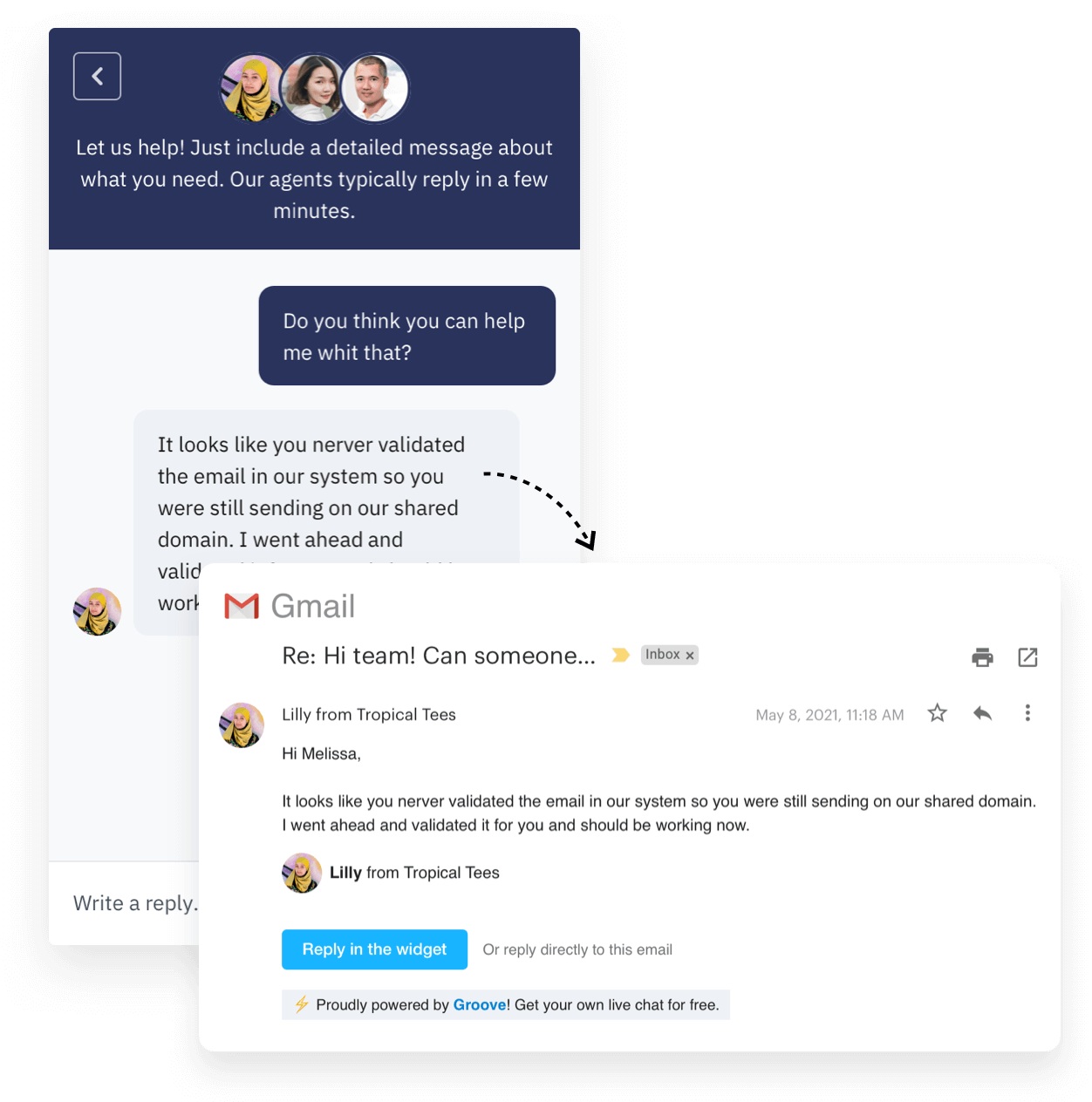 Put your team management on auto-pilot.
Our smart conversation routing ensures that customers get the priority support they deserve.
Round-robin
Automatic routing of conversations to agents with the least amount of open conversations.
Max conversation handling
Don't leave customers waiting because of overloaded team members. When they reach their capacity, new conversations will be unassigned.
Unattended messages
This handy automation unassigns conversations when customers have waited for longer than a set amount of time and re-routes them to available agents.
Give customers options to reach you.
With the Groove Widget, you can give customers different options in how to reach your team or instantly browse your Knowledge Base right from your website or app.
Users choice

Let users decide if they want to search your Knowledge Base, start a chat, or send an email.

Live Chat

Offer immediate access to start a conversation with your team.

Contact form

Ask customers to submit a contact form with more details regarding their request.

Knowledge Base

Present your Knowledge Base as a first stop for customer questions.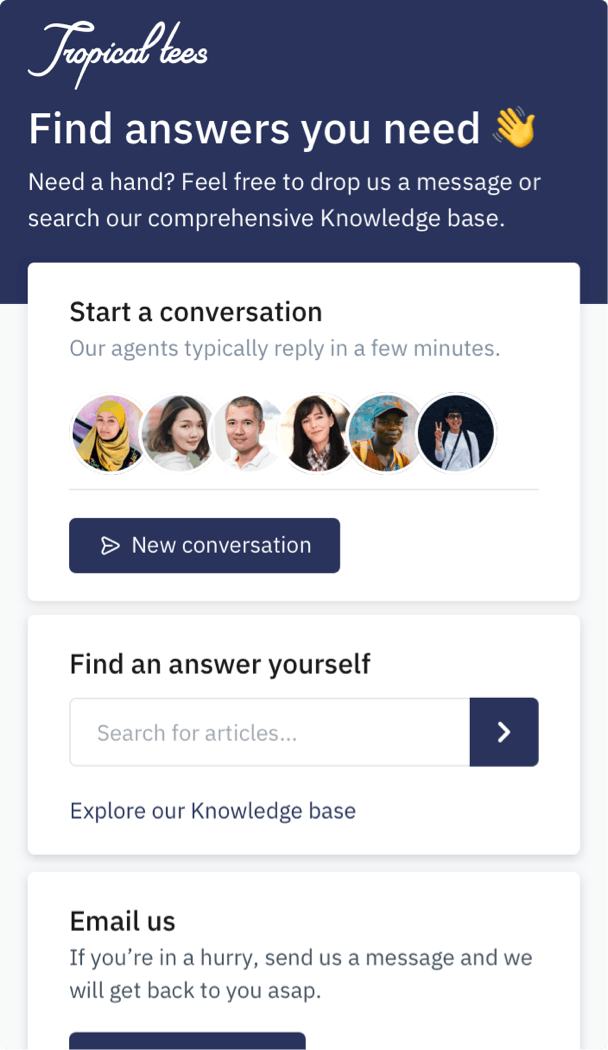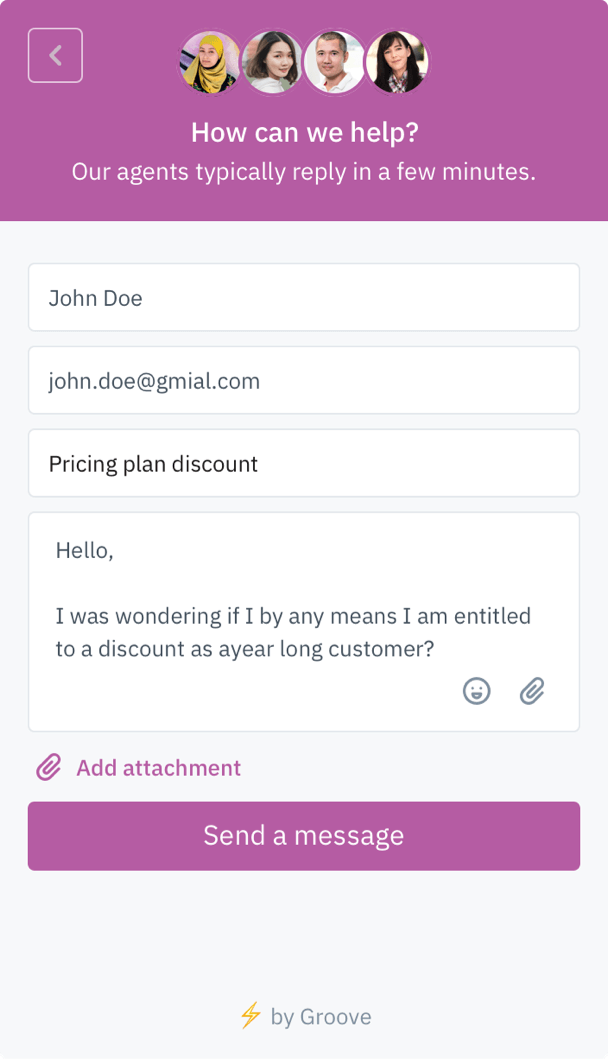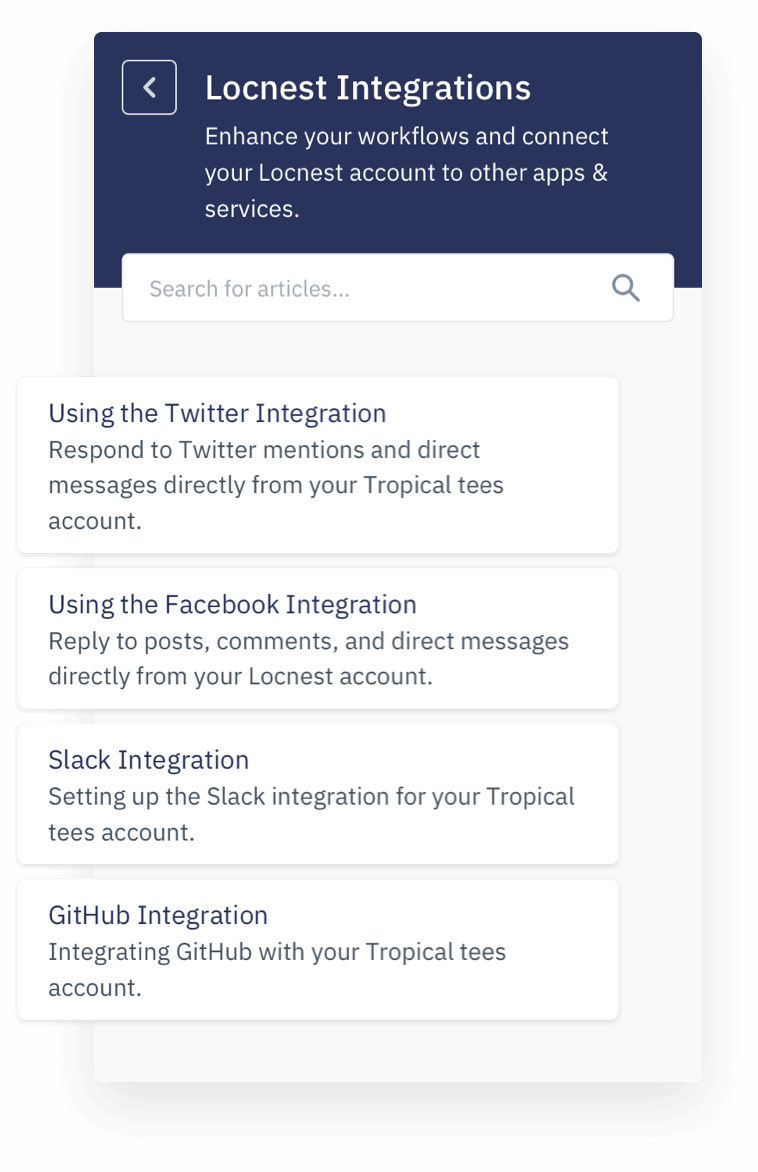 An agent interface built for speed.
Fast reply times are everything in chat. That's why we've optimized the agent interface for fast replies, and have tools to ensure agents are notified of new incoming messages.
New incoming message notifications
Longest waiting sort options
Streamlined reply editor for chat
Private notes for internal conversations
Smart Folders to keep conversations organized
"I love using Groove's Live Chat for quick fixes. It allows us to offload more complex technical stuff to email or phone."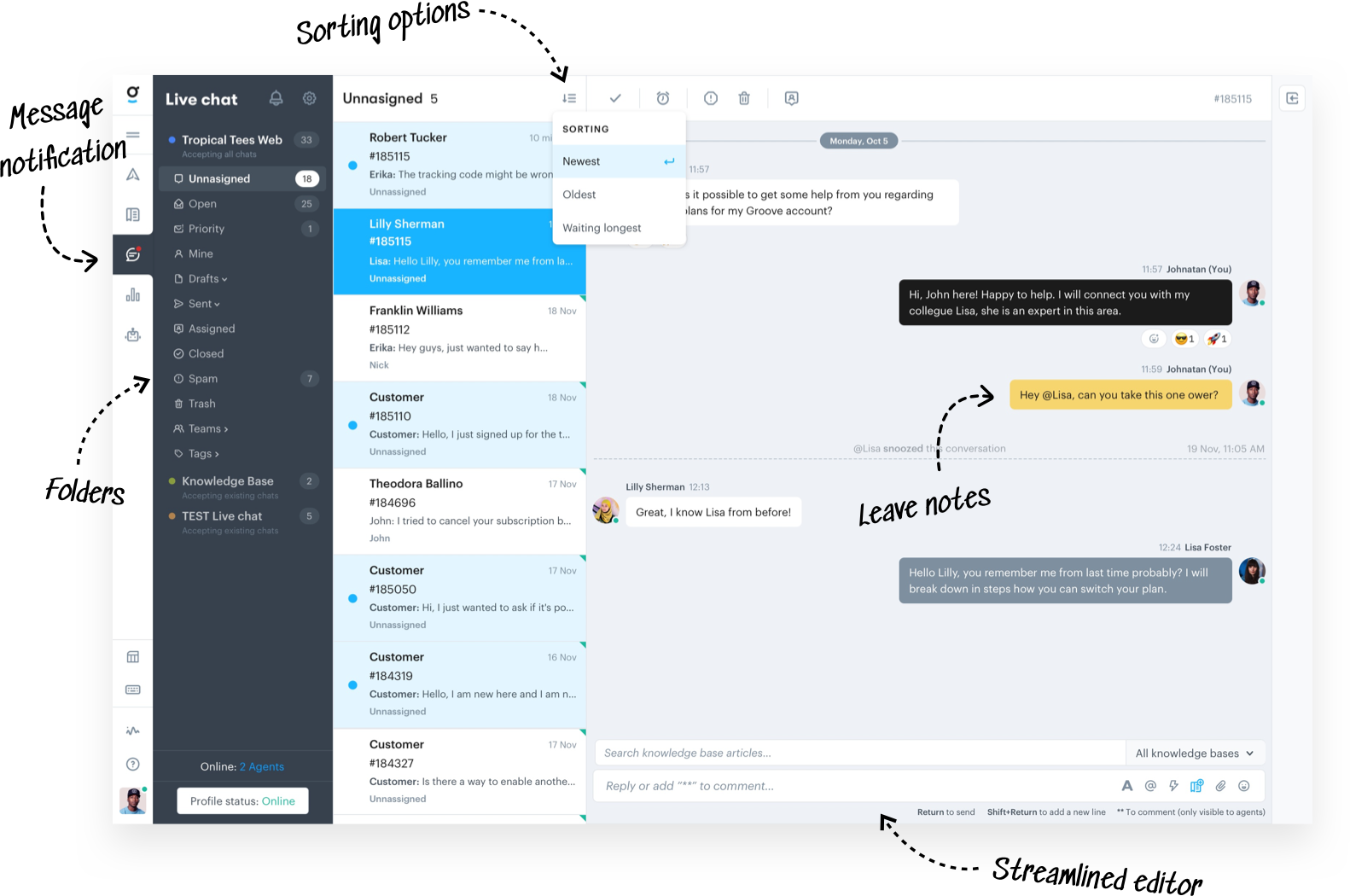 Everything you need to know, in one place.
All the info you need on your customers' browsing and conversation history right at your fingertips to provide fast, fantastic support.
Customer presence status
Visit history
Current page & browsing info
Show all linked conversations
"Groove's chat feature is awesome. This is going to give Intercom a run for its money."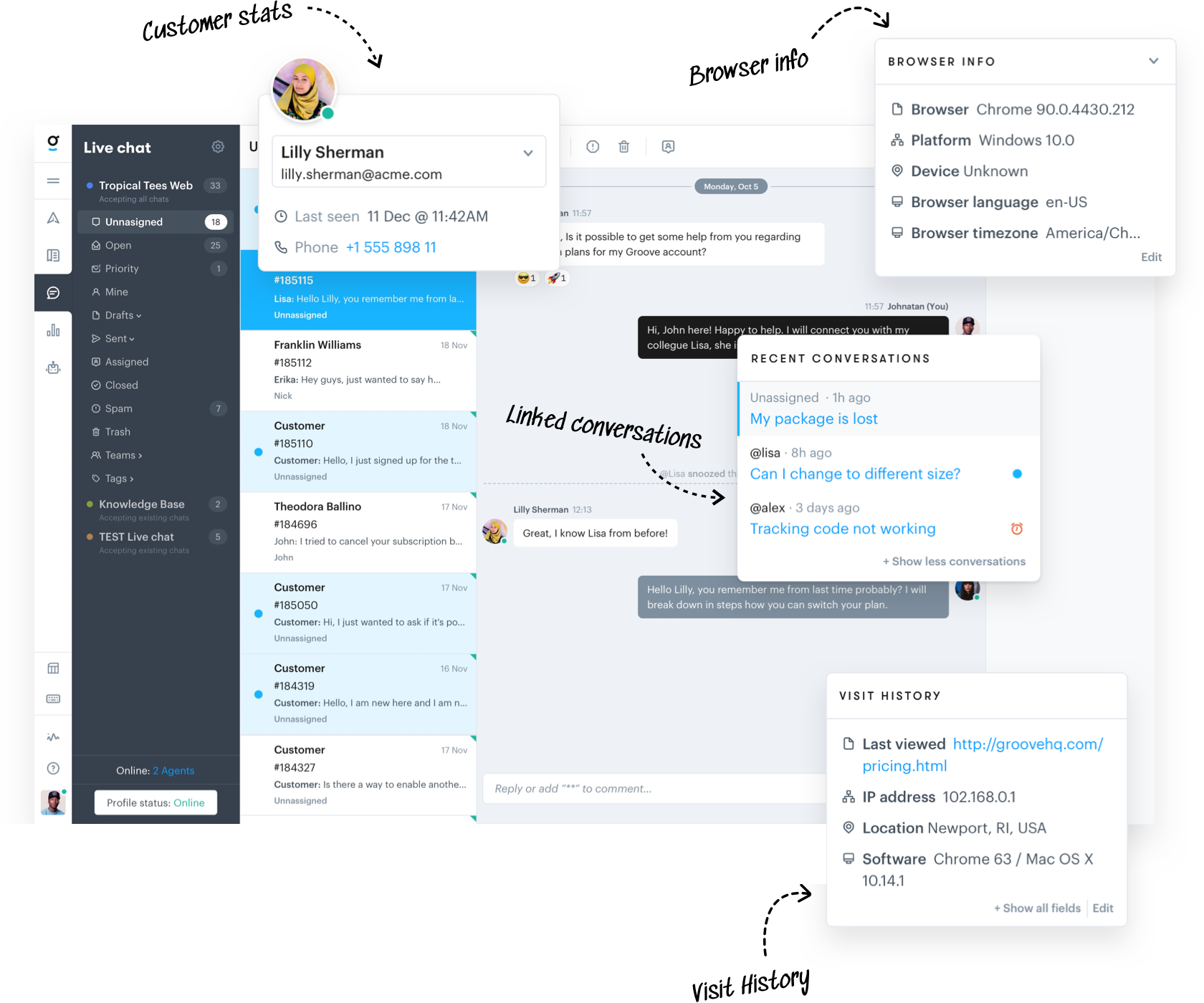 And a whole bunch more…
We've made it easy to customize your Live Chat to work the way you need it.
Transcripts
Customers can download the full chat transcript history right from the chat widget.

Attachments
Allow your agents or customers to quickly and easily share any files right from the chat widget.

Message reactions
Let your agents and customers leave emoji reactions right on any sent message.

Emoji support
With the rich text editor, let customers & agents send relevant emoji's in the conversation.

Remove branding
Remove all Groove branding from the widget and Live Chat.

Access control
Provide access to all or part of the team for each of your chat widgets.
2,000 companies and 10,000 people build better customer experiences with Groove




Start free trial