 Picking the right help desk.
A simple comparison (including reviews) to help you make the right choice.
If you're thinking about how your business should manage customer support, you've probably seen a lot of options.
From regular old email to the fanciest enterprise help desks, there are dozens of alternatives out there that promise that they'll help you deliver better online support.
We want to make your decision as easy as possible, so we've put together some info that'll help you decide which option is best for you.
Below, you'll find details on the differences between Groove, email, and enterprise help desks like Zendesk, Desk and Freshdesk, including features, customer experience, pricing and thoughts from current Groove customers who have made the switch.
We hope this helps…
1) Simplicity
On one end of the spectrum, email is the absolute simplest solution; it's what you've been using for years, and it's what you know best.
The problem that many teams run into is that email can be too simple.
Without a built-in ability to collaborate, it's hard to keep track of who's replying to which emails, and eventually messages start to slip through the cracks.
On the other end, enterprise help desks like Zendesk and Desk offer tons of features.
While that may make them feature-rich, it certainly doesn't make them simple.
In fact, we started Groove precisely because we were tired of having to navigate complicated dashboards, macros, triggers and other edge-case features we never used.
We built Groove to look and feel like the email inbox you're used to. All you see when you log in is your simple inbox:
But on top of that, we added awesome core features like simple automation, canned replies and reporting, without having to navigate a maze of features you don't need.
And if you ever want to enhance Groove beyond the core help desk, you can do that with any of our free Groove Add-Ons.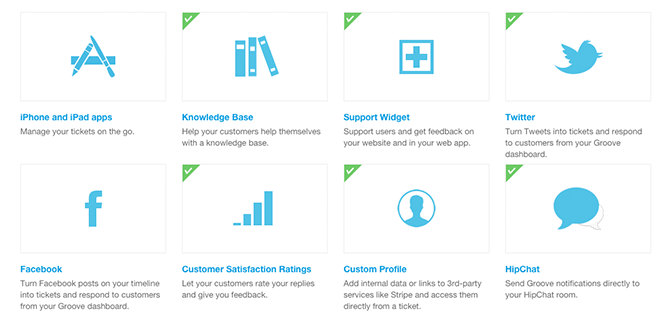 Groove allows us to focus on our customers instead of being tangled into enterprise level customer support software.

Allan Branch

LessAccounting
2) Personal Support
There's nothing more personal on the web than one-on-one email.
But as you grow, it's hard to keep things so personal. That's when a lot of businesses turn to help desk software.
That's also when a lot of businesses start to alienate their customers.
Have you ever gotten a response to a support email from a business that looked like a corporate template? Or that clogged up your inbox with "We've received your email" confirmations for every response you send?
Or even worse, have you ever had to log in through a support portal to track the status of your ticket?
Those are just a few of the features that come standard in many help desks.
But not Groove.
Groove looks and feels exactly like email to your customers: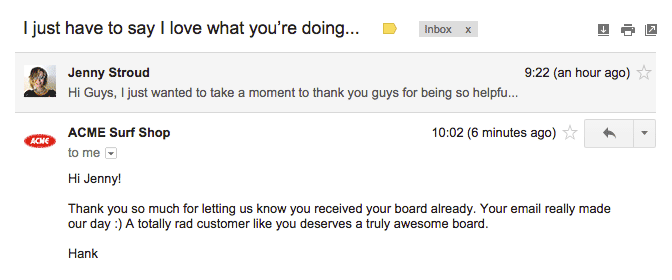 No templates, no portals, no digging through old emails for ticket numbers.
Just the simple, personal experience of regular email, scaled up for your team.
I can't tell you how many of our customers used to complain about the hoops they had to jump through with Zendesk. Our support guys had to spend time answering support emails about how bad our support software was!

Steve Klein

StatusPage
3) Collaboration
Email is good for a lot of things, but collaboration is definitely not one of them.
On the other hand, when a help desk is too complicated, it can add hours of wasted time to a support agent's month.
Multiply that by two, three, four or more agents, and that's a lot of lost productivity.
As a small business, we understand how devastating that can be.
That's why we stripped out the more complicated edge-case features of Zendesk, and kept only the most important time-saving collaboration tools:
Help your customers, together. Assign tickets to other team members or groups. Everyone knows which tickets they're responsible for, so nothing slips through the cracks.
Collaborate behind the scenes. Add private notes that only you and your team can see. Ask questions, make suggestions, or review messages from new team members before they're sent.
Always know what's going on. See exactly what's happening in Groove in real-time. You'll know when tickets are assigned, completed, reopened or rated.
Groove's Knowledge Base makes it easy for your team to save time by offering 24/7 self-help to your customers, too.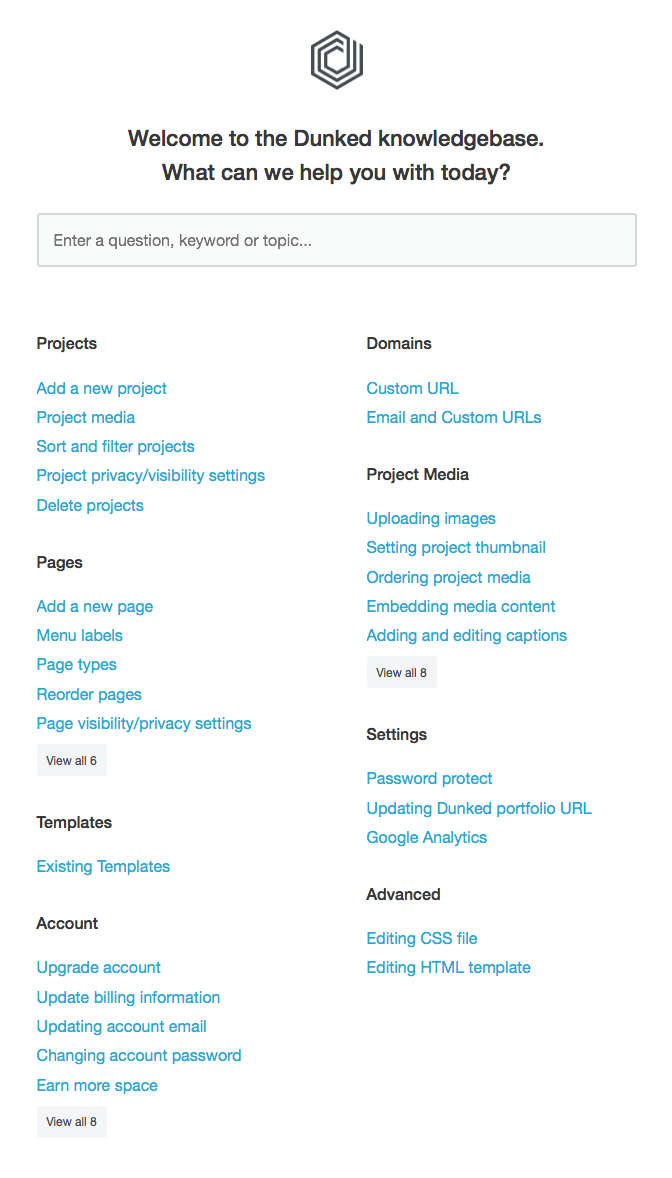 It really is like Gmail on steroids. Just as simple, but way, way more powerful.

Justin Britten

Prefinery
4) Productivity
Unlike email, Groove has functionality to help make you and your team more productive.
Insert common replies. Save answers to common questions, and insert them with a click into any message. Common Replies save time, and help keep your brand's voice consistent across agents.
Organize tickets with labels. Create custom labels to organize tickets or tag them for future reference using whatever system works best for you.

Automate your workflow. Use rules to automate the way tickets are handled. For example, assign a ticket to a team member based on who they come from, or flag messages that include the word "urgent."
You can automate the way support emails are handled, save and insert canned replies to frequently asked questions and get metrics on how you're doing, including satisfaction ratings from your customers.
And unlike complex help desks, you won't be tied up in clunky features that slow you down.
We're probably answering twice as many emails in the same amount of time as before.

Sarah Facini

LookBook
5) Pricing
We believe that small business software should be affordable for small businesses.
And we get it: email is free. Free is a great price.
But we believe that the value you'll get from Groove far outweighs the cost.
And more than 3,000 happy small business customers agree. If our productivity and collaboration features can save your team just five hours per month, then Groove will more than pay for itself. Our pricing is simple: just $19 per agent per month.
Here's a price comparison of Groove to Email, Desk and Zendesk, (using the Zendesk "Plus" plan, which you would need in order to get all of the functionality that's already included in Groove's straightforward price):
1 agent
3 agents
5 agents
10 agents
Email
$0

/month

$0

/month

$0

/month

$0

/month

Groove
$19

/month

$57

/month

$95

/month

$190

/month

Desk
$65

/month

$195

/month

$325

/month

$650

/month

Zendesk
$69

/month

$207

/month

$345

/month

$690

/month
Here are a few more reasons to switch…
We work hard to get to know all of our customers. One of the things we always ask is: why did you sign up for Groove?
Hundreds of happy customers have switched from email. See what they had to say…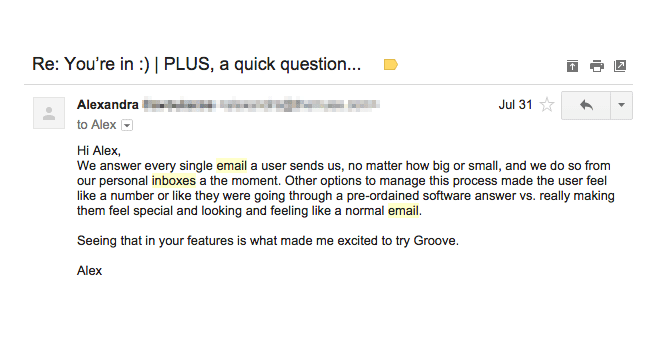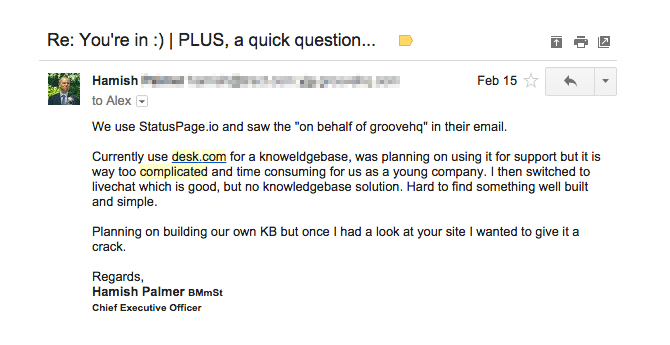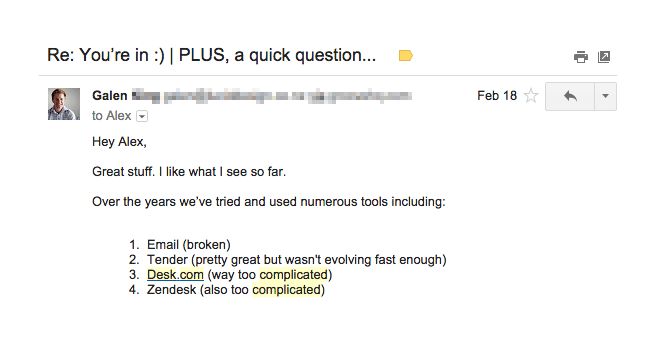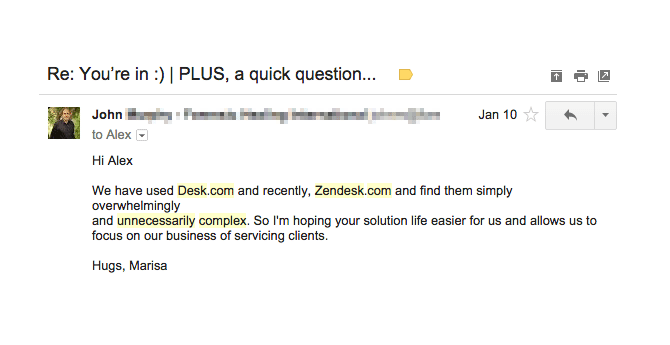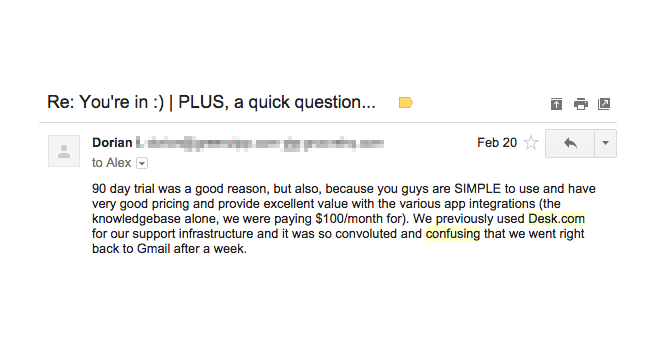 Ready to give Groove a try?
We hope this comparison guide was useful to you.
Making the switch is easy; you can get your whole team set up on Groove in just a few minutes.
Empower your customer support team