An online Knowledge Base never sleeps.
Software that delivers online answers to help your customers with their support questions, even when you're not around.
Ensure that your customer service is always online
Your knowledge base delivers answers, even when you can't
Deliver awesome support 24/7. Your Knowledge Base is always online to answer questions, even when you're not. It's like having a 24/7 support agent.
Get fewer support emails. By giving your customers easy access to common questions, you'll get fewer support emails crowding your inbox.
Offer instant answers. With answers at their fingertips, your customers will love getting awesome support without having to wait.
Works on any device
Your Knowledge Base is designed to look great whether your customers are on their computers, phones or tablets.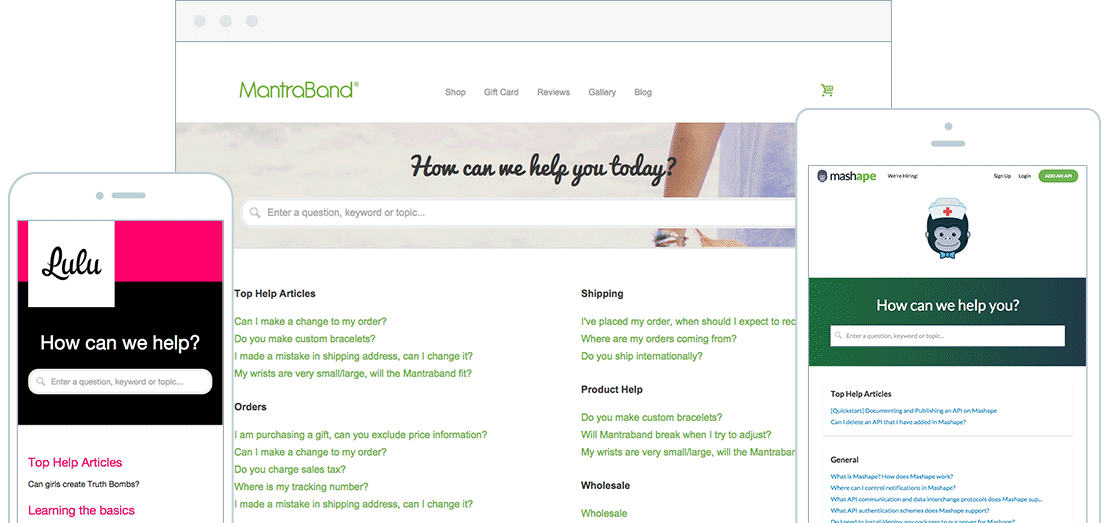 Customer self-service at its best
We make it easy for you to make things easy for your customers.
Totally customizable. Personalize your Knowledge Base with your company's logo, custom branding and HTML/CSS. Plus, choose from 12 different languages.
Easy collaboration. Your whole team can contribute to your Knowledge Base. Draft mode keeps your articles private while you develop and proofread them.
Tell the whole story. Give thorough answers by adding photos, charts, graphs and GIFs to your articles. Or, share code using GitHub Gists.
Amazing Groove knowledge bases in the wild
See how some of our customers are customizing their KB's.
Whenever we start getting the same question more than a few times, we just turn the answer into a Knowledge Base article. It's saved us a ton of time.

Steve Klein

StatusPage