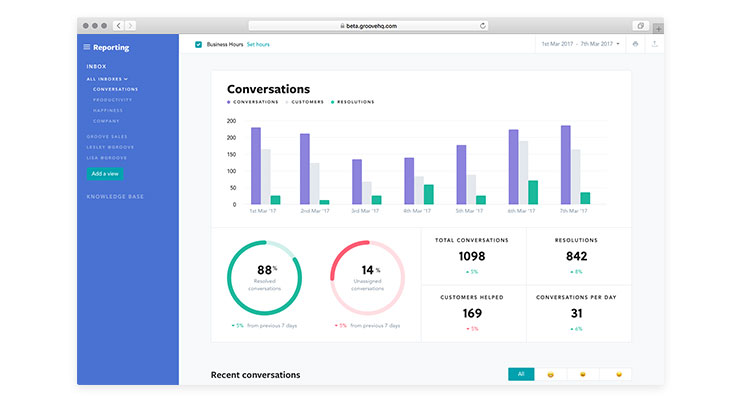 Groove Reports 2.0:
A Look at What's Coming

There are three main parts to the Groove 2.0 overhaul we've been working on this year. So far you've seen what's in store for both the Inbox 2.0 redesign and the new Knowledge Base. Now it's time to show you that final piece, and something that we're really excited about: an all new reporting dashboard!

Until now, the Groove reports have provided very basic statistics. With Reports 2.0 that changes and accounts will have access to meaningful metrics with valuable and actionable insights into your customer support performance.
A Brand New Dashboard
Not only is there a fresh, new layout, the reports dashboard has also been broken down into sections to make it easy to understand what you're looking at.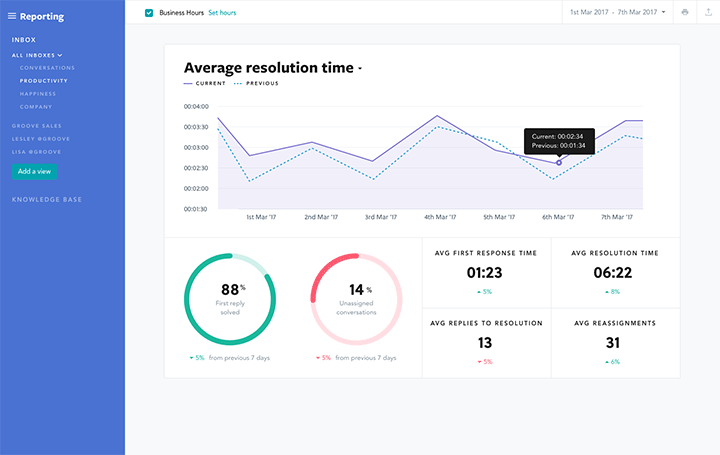 Productivity reports allow you to gain valuable insights into the efficiency and overall health of your communication with your customers. At a glance you can see important metrics like:
Average response times
Average time to resolve a conversation
% first reply resolved
Average replies to resolution
The productivity reports also include a new metric⁠—busiest time & day⁠—giving you insight into when your customers are most active and how you can structure your support team to accommodate this.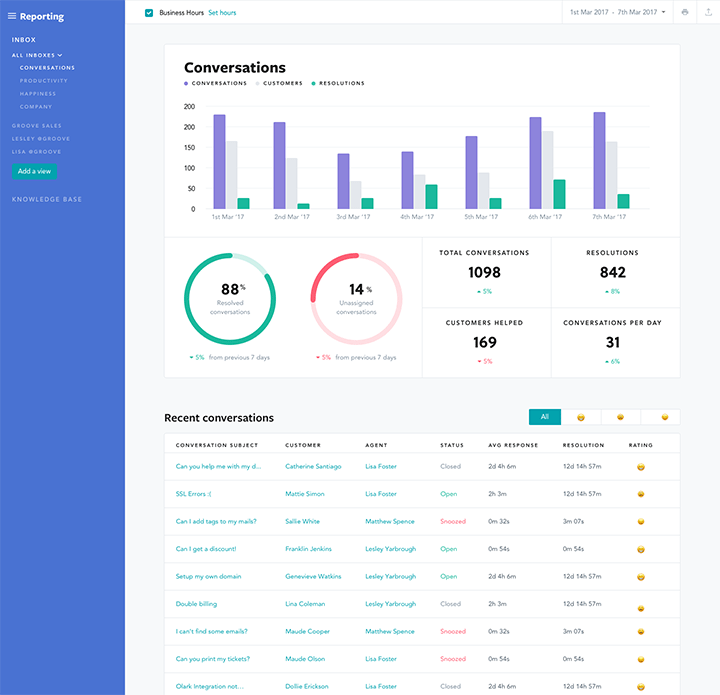 Conversation reports give you a bird's-eye view of key metrics for the conversations that you're having with your customers. These key metrics include:
Total conversations (new and existing)
Total customers helped
% Resolved conversations
In addition to the conversation metrics above, there is a conversation history table showing you a host of relevant information such as ticket state, reply count, resolution time and satisfaction rating.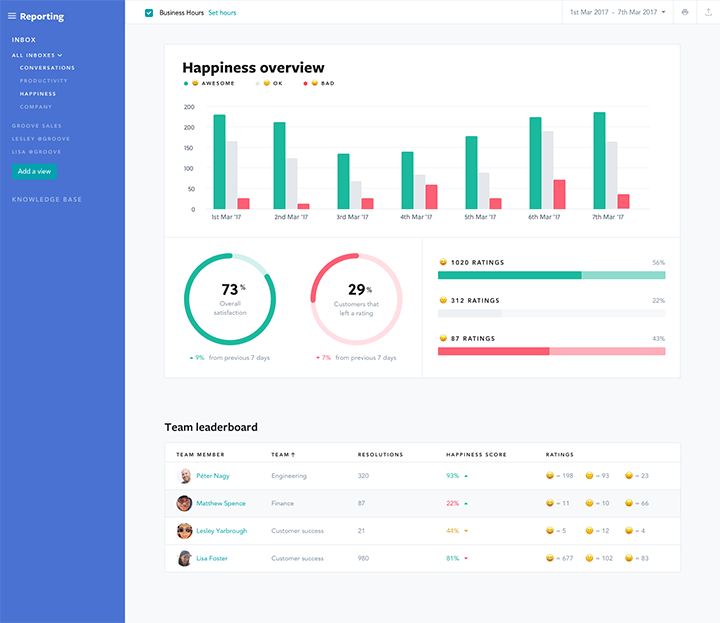 Happiness report provides an overview of the overall sentiment for your past conversations with your customers in a quick and easy view. Here you can see:
Ratings overview
Overall happiness score
% of customers that left a rating
Team happiness leaderboard
Rating history table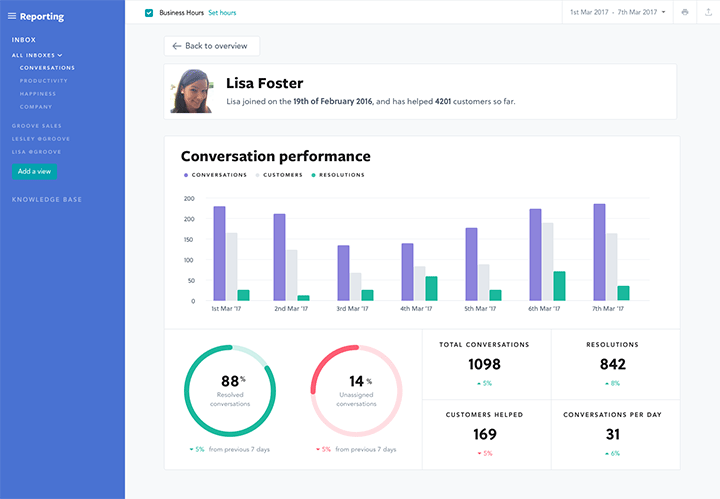 Company & team reporting now provide insights into how individual agents and teams are performing with key performance metrics such as:
Total conversations
Total resolutions
Overall happiness score
Total customers helped
Conversations per day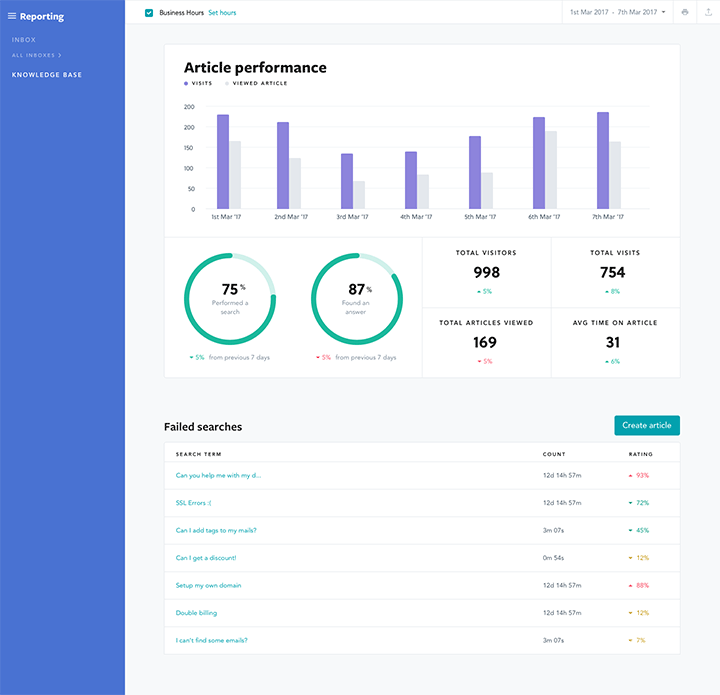 Knowledge base reports have also been given a bit of a spruce up to include the following:
Total visits
Total visitors
Average time spent on articles
Popular article
Popular & failed searches
But wait, there's more!
We tracked years worth of customer feedback around reporting and gave a lot of thought to building out our reports. In addition to overhauling all of the metrics, we have also built in some great new functionality to get even more out of your reports:
Calendar control allows you to set custom date ranges so that you can dig into your metrics for any time period.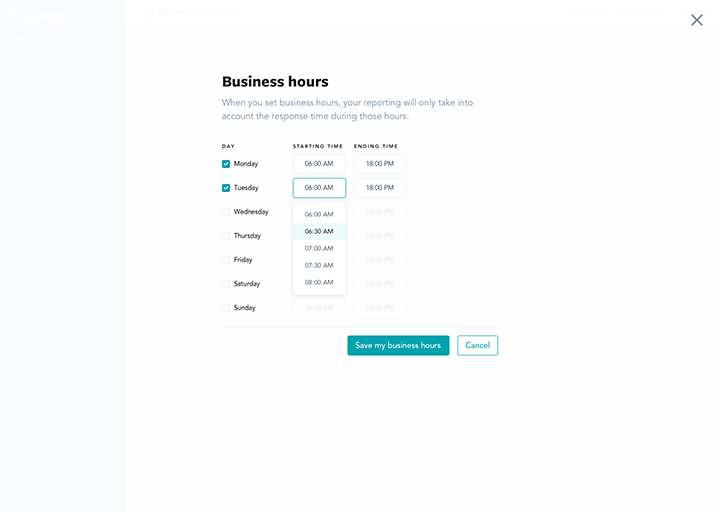 Business hours bring a new level of accuracy to your reports by giving you the option to set up your reporting view to only see metrics within those core hours, so you can truly see how your team is performing.
Custom views (coming soon) give you full control to create your own custom reporting views by being able to filter your reports based on things like including/excluding inboxes, folders, and/or tags.
The best part? Unlike companies that charge extra to access reports, Groove's new reporting tool will be available to all users on all accounts at no additional cost.
Join the Beta
If you like what you see, sign up for beta access and we'll let you know as soon as you can play with the new reporting dashboard yourself. We'll be granting customers access in the coming weeks and we can't wait to hear what you think!