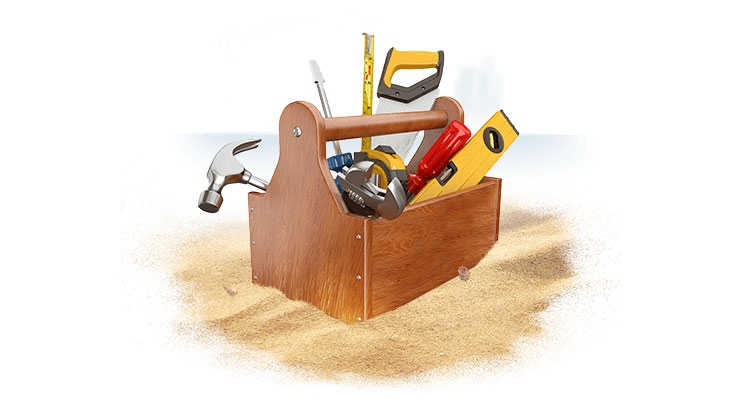 19 Tools Our Remote Team Uses to Stay Connected, Productive and Sane
We've replaced a lot of the benefits of having a traditional office with online apps. Here are the ones we use daily.
Last week, I shared the ways that we make remote work work for us.
The post covered the strategies and habits that we've built as a team to stay productive and build a strong remote team and culture.
And strategies and habits, I think, are the most important things you can focus. Far more important than a lot of people's favorite thing to talk about: tools.
With that said, tools are important. They can add tremendous value. And with the right strategies and habits, the right tools can make your team even stronger.
So today, I'm sharing the 19 tools that our remote team uses every single day. If you're looking for new tools to fill any gaps in your own stack, I hope that this list helps:
Staying In Touch
Communication used to be the biggest challenge for remote teams, back when Outlook and conference call phones were the norm. Now we have a lot of great tools to make communication a lot easier, whether it's simply for staying in touch or for building the culture of the company:
1) Slack – our headquarters
Even a remote company needs a headquarters, and for us, that HQ is Slack, a team chat app.
We use Slack to brainstorm, ask each other questions, pass files back and forth, compare notes on new releases, and much more.
Each morning, our team members do our daily standup in Slack, so that we all know who's working on what.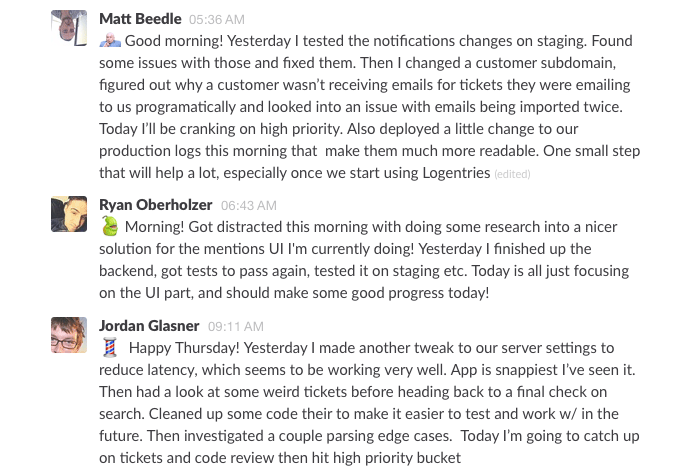 Slack also serves as our virtual water cooler, giving our team a place to talk about anything, work-related or not, or even let off some steam.
2) Screenhero – one-on-one voice calls and screen sharing
About a year ago, we were looking for a good app that would let us do voice calls and easily share screens at the same time, a burden that seemed to slow Skype down too much to make it usable.
We wanted something as simple to use and as pretty as Slack, and we found that in Screenhero, which we use anytime we do one-on-one voice calls with our teammates.
In fact, Screenhero was so good that Slack decided to buy them.
Warning: Sadly, since the acquisition, it seems as the app isn't supported as well as it was before, and a few annoying bugs have gone unfixed for some time. Unless the functionality gets built into Slack soon, we'll probably be looking for an alternative.
3) Skype – team voice and video calls
Skype is the VoIP calling app that needs no introduction. We use it for our weekly Monday morning team calls, our My First $100K interviews, customer development and more.
Nearly everyone has it, so if we want to talk to a customer or job candidate, scheduling a Skype call is just as easy as scheduling a phone call (and a lot more practical with customers and candidates all over the world).
4) Join.me – screen sharing for team and customer calls
As I mentioned, Skype has a tendency to lag when using the screen sharing feature, so when we need to share our screen (or see a customer's screen to help them through an issue), we generate and send a Join.me link to make screen sharing easy.
5) Groove – customer support collaboration
It should surprise nobody that we use Groove for customer support :)
As we've grown we've built the collaboration features that we realized we needed into the product, letting us exchange private notes (that customers can't see) on support tickets…

…and assign tickets to other people on the team.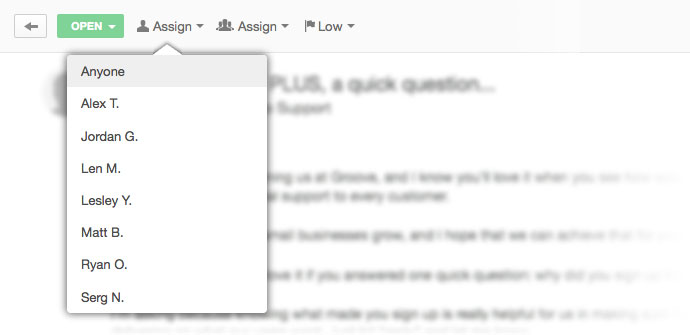 6) World Time Buddy – know what time it is
anywhere in the world

With a team scattered throughout the world, scheduling calls and collaboration sessions across time zones isn't the easiest thing.

I love World Time Buddy for that reason: it makes it really easy to enter a few time zones and find some overlapping times.

For example, if I want to schedule a call between myself in Newport, Lesley in Denver and Serg in St. Petersburg, I just input the three cities into WTB and see what works:

Staying Productive
Without being in the same room, managing the team's productivity gets to be a little more complicated. Here's what we use to always know who's working on what:
7) Trello – keeping marketing and customer success goals
and to-do's organized

Out of a half dozen project management tools that we've tried, Trello has been our favorite by far, and we've stuck it with for a couple of years now.

We use it to track our to-do's at the weekly, monthly and quarterly level, along with managing one-off projects like site redesigns and ongoing efforts like our blog editorial calendars and product roadmap.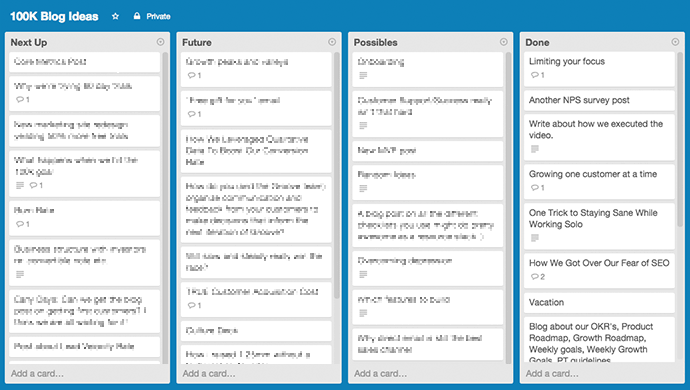 The drag-and-drop interface is simple and fun to use, and it's the most visually appealing project management tool we've tested.
8) Pivotal Tracker – tracking bugs and developer to-do's
On the technical side, we track bugs, feature requests and other developer tasks using Pivotal Tracker. It keeps our team on the same page, and being able to track velocity gives us a partial top-down look at our productivity each week.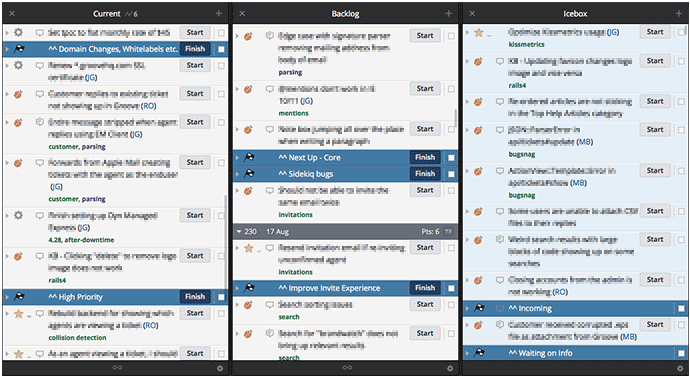 9) Google Drive – keeping content and other company docs
in one place

With three blogs, guest posts and thousands of emails going out each year, we have a lot of content to keep track of.

We use Google Drive as a repository for all of it; inherently collaborative, easily organizable and instantly searchable, it's the best tool we've found for managing content. And with Google behind it, I have a reasonable level of confidence that our critical files won't get lost (though we do back things up anyway).
10) Dropbox – file-sharing
For storing and sharing non-text files, we prefer Dropbox. We keep project files, PDF's, and images here. It's an old standby, and I love being able to share files with a link (versus creating an attachment and bulking up emails).
11) GitHub – code goes here
Our developers use GitHub to store and share code. The Slack integration makes that even easier.
Staying Sane
Working solo, it's easy to go a bit stir crazy without building an environment that forces you to take breaks and balance your work and life more effectively. Here's how we stay sane:
12) Music Streaming Apps – the service that divides our team
While most of the team listens to music while they work, there's no consensus about the best app for streaming music (on the Groove team, at least). It's an issue that divides us all: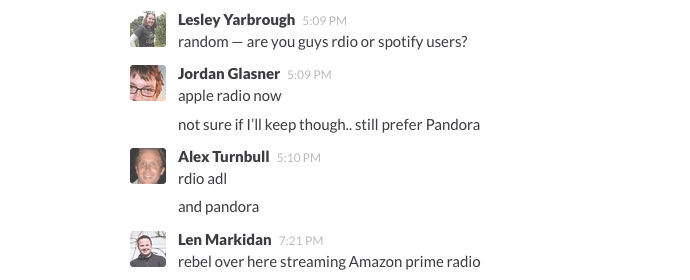 As we all have different hobbies, interests and remote strengths and weaknesses, we all have our own favorite tools for staying sane working solo:
13) Alex: What good is living across the street from the beach if you can't enjoy it? I love Surfline and Magic Seaweed for surf reports to let me know when it's time to take a break and grab my board.
14) Len: Headspace is awesome for anyone that has trouble disconnecting. It's a guided meditation app that, in 10-20 minutes a day, helps you clear your head and get back to work with renewed focus. Also, while not a traditional "tool," our cat Zoe has a helpful built-in feature that tells you when it's time to step away from your work for a bit.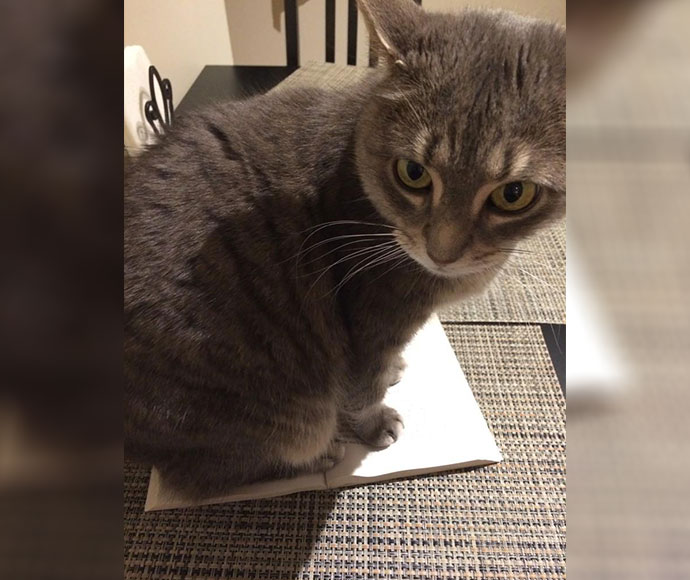 Break Time
15) Jordan: These days I've moved much of my process to pen and paper. Starting each day writing the date and my top 4-5 tasks to finish. When I need a quick distraction it's always on mobile, usually Robinhood or StockTwits. But I have been geeking out on Prune more recently.
16) Serg: I love Org-mode. It's a task manager meets journal meets personal assistant kind of thing: it lets me get rid of that feeling when you know you wanted to do something or think about something, but don't quite remember what it was. It's pretty close to OmniFocus or Wunderlist the way I use it, but it's a much more open and flexible system. And when I'm on the go, I use Orgzly.
17) Ryan: I've been messing around with Headspace recently, but mostly my downtime is me stepping away from my laptop and redditing anywhere but my office. I use Alien Blue for that. I also enjoy looking on ProductHunt at new products and ideas.
18) Matt: I use Vitamin-R to break my work time into 25 minute chunks with 5 minute breaks to stand up. It has a built-in noise machine for pink noise. Bulletproof Coffee Brain Oil for focus and SWORKIT for home workouts. Those are my essentials.
19) Lesley: One of my favorites is an app called Take a Break, Please that forces me to get away from my desk and actually move throughout the day. Without it I used to just sit for hours and hours at a time, and sometimes even forget to eat lunch, which is just the worst thing you can do.
What Are Your Must-Have Tools?
I hope that this post has given you some ideas for tools that can help your team be more productive, effective and close-knit.
I'd love to hear more about what tools you find to be most useful on your own team.
Share your favorites in the comments!