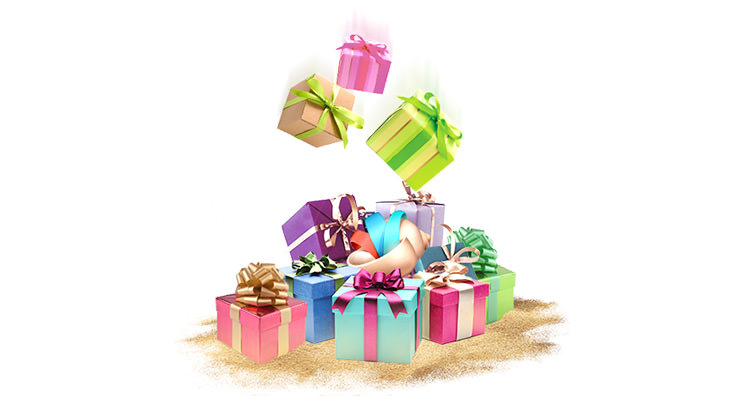 Six Months Later: We've Given Away More Than $50,000,000 in SaaS Apps
Six months ago, we launched the biggest small business software giveaway ever. Here's how things are going…
"What apps do you use to grow your business?"
It's a question I get asked a lot.
In many ways, it's not a great question. Or not the right first question for most people, at least.
It's usually asked under a flawed assumption: that tools are the difference between a struggling business and a successful one.
It's like thinking that the major difference between Lebron and a struggling rookie is the shoes they're wearing. Often, that's about the only thing they have in common, and Lebron would still handily win a one-on-one game wearing hiking boots.
We write a lot on this blog about the fundamentals of business, and how we're always looking to improve our own foundation.
We talk about the strategic development of our messaging and positioning.
We talk about the painstaking process we used to grow our blog from nothing.
We talk about the big wins that come from having hard conversations with thousands of customers.
In those cases, tools aren't the most important factor. Not even close.
But after — and only after — we adopted the mindset of "fundamentals first," and put in the hard work of developing those fundamentals, we found that the tools we used did start making a difference.
For example, we work hard to drive traffic to our site. KISSmetrics makes it easier for us to analyze that traffic and make decisions about what we need to change or test.
Without the hard work, an analytics tool would be pretty useless.
But when combined with the foundation we've set, KISSmetrics makes our lives much, much easier.
After You've Done the Hard Work
Earlier this year, we realized something: a lot of the people who read this blog have done the hard work.
They've set strong foundations, and they're at the point where they could benefit from using the same tools that the most successful startups use.
That's why, in February, we launched the Small Business Stack.
The Small Business Stack
We wanted to make it easy for startups who were ready for powerful SaaS tools — but not quite ready to pay for them — to get access to those tools.
We set a goal: help 5,000 startups and small businesses by the end of the year.
Now that we're a bit past halfway through, here's where we stand…
The Small Business Stack Stats
At launch, the Stack had 19 partners offering free or deeply discounted SaaS apps worth more than $10,000.
Today, there are 37 industry-leading companies represented, offering more than $20,000 in free software.
And with more than 400 companies asking to be featured, we've had to be very selective in who we add.
We had to turn away some really cool businesses with valuable products that we loved, simply because it wasn't the right fit for the startups and small businesses we built the Stack for.
At the time this post was written, just over 2,900 people had signed up to unlock the offers in the Stack.
The response has been overwhelmingly positive:

Tweets About The Stack
It's been awesome to watch, to say the least.
Who's New in the Small Business Stack
Our original "class" of 19 must-have apps set a damn high standard for the Stack:
Groove (90 Days Free)
KISSmetrics (90 Days Free)
Unbounce (75% Off for 3 Months)
Grasshopper ($50 Credit)
Moz (90 Days Free)
CrazyEgg (90 Days Free)
Drip (90 Days Free)
Wistia (90 Days Free)
Vero (90 Days Free)
Customer.io (90 Days Free)
Zapier (90 Days Free)
iDoneThis (15% Discount)
BidSketch (90 Days Free)
Mention (90 Days Free)
PipeDrive (90 Days Free)
ExitMonitor (90 Days Free)
PlanScope (90 Days Free)
Uncover (90 Days Free)
Stride (90 Days Free)
Every single one of those offers still remains a part of the Stack. Fortunately, we've been able to keep that high standard for the newest wave of 18 must-have SaaS apps:
Freshbooks (90 Days Free)
AnyPerk (30 Days Free)
Cyfe (90 Days Free)
Prefinery (90 Days Free)
Blossom (90 Days Free)
InVision (90 Days Free)
CoSchedule (120 Days Free)
Friendbuy (50% Discount for 90 Days After Trial)
AdEspresso (30% Discount)
3dcart (90 Days Free)
ProjectLocker (90 Days Free)
iubenda (50% Discount)
Workable (90 Days Free)
Evercontact (25% Discount On All Plans)
Close.io (90 Days Free)
(The three apps below are being added this week.)
Ghost.org (90 Days Free)
15five (90 Days Free)
Flow (90 Days Free)
Want $20,000 in Free SaaS Software?
We still want to help 5,000 businesses this year. we're more than halfway there, but we need your help to hit our goal.
If you haven't yet, unlock the Small Business Stack now.
Once you enter your name and email address here, the form will ask you to share the Small Business Stack via Twitter, Facebook or email. As soon as you do any one of those, you'll get instant access to all 37 offers.
You'll help yourself to $20,000 in free apps, and you'll help us give away $100,000,000 (!!!) in software to startups and small businesses in 2014.
Here's the link: www.groovehq.com/software-stack
One Small Request
I hardly ever ask for anything on this blog.
I write about our experiences and what we learn, and I hope that you learn from it all, too.
Today, I've got just one request for you:
If you've signed up for the Small Business Stack: Leave a comment and tell us about your experience. What have you gotten out of it? Have any of the apps in particular helped you grow?
If you haven't signed up for the Small Business Stack: Leave a comment and tell us why. What's holding you back? What would get you to sign up? Any particular apps you're looking for?
Thanks for helping us help other startups.