We know that:
Hands down, organic traffic has been Groove's best growth lever for the last ten years. In particular, our Startup Journey Blog has brought us hundreds of thousands of visitors. Many of our current customers began their Groove journey with a good ol' Google search, found the blog, and then signed up for a free trial.
But we need to diversify our growth levers. We need a growth lever that will deliver results faster and be easier to track and optimize than organic traffic alone.
Enter pay-per-click advertising (PPC).
PPC is a very enticing option for a company like Groove, because of our high customer lifetime value. Our average revenue per customer per year is $2,304. With an estimated lifetime of 3.5 years, it's not overreaching to expect a customer lifetime value of around $8,000.
Given this payoff, we can afford to be bullish with PPC; but we also know that we're playing in a very competitive space.
Finally, from our past attempts at PPC, we know that simply sending traffic to our homepage is not going to cut it. We need to create high-conversion landing pages to address the specific pain points the person has used in their search terms.
We believe that:
PPC can deliver the predictable, easily trackable, and rapid growth results we're aiming for.
We can achieve better-than-average results if we use high-conversion landing pages, customized to the keywords that the person uses in their search. For example, if a person uses our competitor's name Front in their search term, they will be directed to a landing page that specifically highlights the ways in which Groove is better than Front.
Therefore we will:
Invest $300K in a PPC advertising campaign.
This investment includes the ad budget of $15,000 per month, a PPC consultant's fees, and the time that internal Groove employees will spend on the campaign assets and monitoring.
Investment vs. Impact:

We understand that this experiment will require a significant investment. We are prepared to make this investment for three reasons:
We've tried PPC in the past, but the campaigns didn't work due to poor execution. This time, we know we have the right expertise, and so we're willing to back that up with a sizable investment. In other words, we want to give this experiment the best chance of success possible.
At this point in our growth journey, it's important for Groove to diversify our growth levers. We want to leverage a growth channel that can deliver swift and predictable results. If PPC can do that, then it's worth the investment.
Once you have a good strategy, PPC is straightforward to scale. So we see this investment as a foundation for consistent and scalable growth into the future.

We're aiming to get 80 trial signups and 8 new Groove customers (on a paid plan) per month.
We consider this a modest goal; however, an additional 8 customers each month will have a very positive impact on the business. So for the expected impact, we believe that this will be a worthwhile investment.
We will measure:
Because this is one of our most comprehensive experiments, we will be tracking and measuring many different data points. These include total traffic to the website, ad impressions, customer lifetime value, keyword performance, and other data points.
However, for the purposes of this experiment, our top priority is to increase trials. Our next priority is to increase paid accounts. Therefore, we will measure the following:
Visitor-to-Trial Conversion
Trial-to-Paid Conversion
Cost per Conversion (to Trial)
Cost per Conversion (to Paid)
We are right if:
We get at least 80 trial signups per month and the Cost per Conversion (to Trial) is less than $250.
We get at least 8 paid signups per month and the Cost per Conversion (to Paid) is less than our Average Revenue per Customer per year ($2,304).
Our page visits increase by more than 3K per month and the click-through rate (CTR) is above 1%.
If this works, then we will:
Continue to invest in the PPC campaign and increase our budget to target additional competitive generic search terms e.g. help desk software or knowledge base.
How this will work:
Step 1:

Establish a Search Term Strategy

We will use both Google Ads and Microsoft Advertising.

We will spread our efforts across the following types of search terms, which are in order of cheapest to most expensive/competitive.
Branded Terms, e.g. search terms that include Groove or GrooveHQ.
Competitor Terms, e.g. search terms including our competitors' brand names e.g. Zendesk, Front, Help Scout.
Generic Terms, e.g. help desk, knowledge base, support software.
Because competitor terms and generic terms are so expensive, we want to put our best foot forward when we get clicks on these terms.
We'll do this by creating high-conversion landing pages.
Step 2:

Create High-Conversion Landing Pages

We will create high-conversion landing pages for all of the competitor terms we're targeting, as well as the most competitive generic terms.

Here is an example of a high-conversion landing page for visitors who use our competitor's name Front in their search term.
For generic terms, we will customize the wording on our high-conversion landing pages to mirror the words used in the search term.
For example, if a person uses the search term shared inbox, they'll be directed to a landing page with the header, "Groove, the best shared inbox on the planet." We'll also customize the landing page to specifically highlight our shared inbox features and testimonials.
Step 3:

Monitoring the Campaigns & Tweaking

Our plan with this PPC experiment is to cast a wide net of search terms to see what works and performs — and then remove the terms that are underperforming or delivering low-quality leads.

The campaign will require intensive monitoring, so we will create a custom dashboard on Google Ads, with our campaign split into our various sub-campaigns.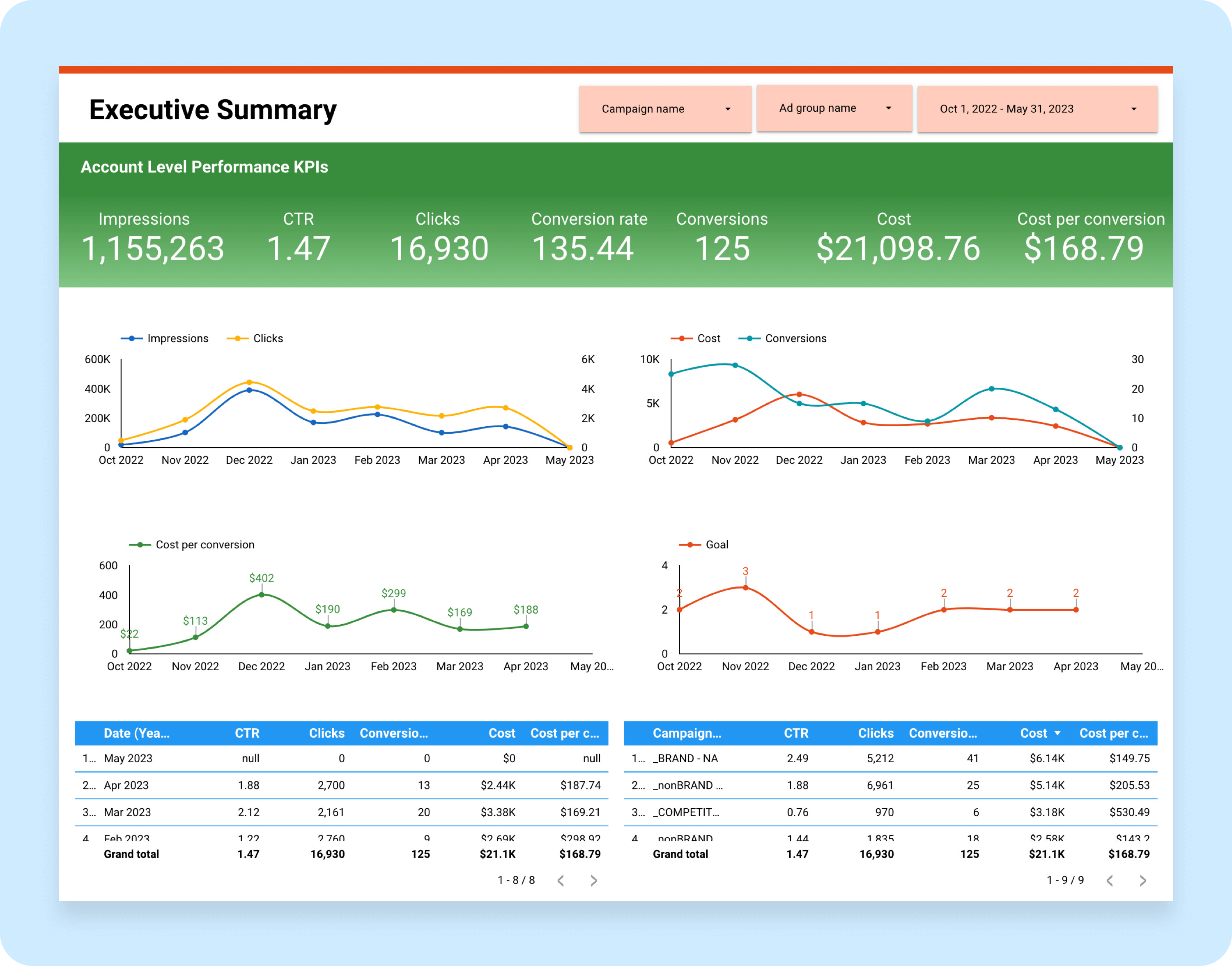 Based on the information we get through our monitoring, we will start to add negative search terms, add more specific search terms, and generally refine our search terms to optimize the leads that are coming through.
We also understand that a good PPC campaign requires strategic tweaking — but not too much. We want to give our tactics time to play out, but we're also ready to take quick action as soon as we recognize a trend.
Results:
We started the campaign in November 2022, but initially we had some challenges with accurate tracking (see Key Learnings & Next Steps for more on this).
To give you an idea of visitor-to-trial conversion, let's zoom into our results for February 2023 for the Google Ads portion of our campaign.
Traffic and Trials
| | Clicks | Trials | Conversion Rate | Total Ad Spend | Cost/Paid Conv. |
| --- | --- | --- | --- | --- | --- |
| Feb 2023 | 3,322 | 66 | 1.99% | $15,713.16 | $238.08 |
Here are our results for trials and conversions to paid accounts for January to April 2023 on both Google Ads and Microsoft Advertising.
Conversions to Paid Accounts
| | Trials | Paid Accounts | Conversion Rate | Cost/Paid Conv. |
| --- | --- | --- | --- | --- |
| Jan 2023 | 98 | 15 | 15.30% | $1,000 |
| Feb 2023 | 88 | 3 | 3.41% | $5,000 |
| Mar 2023 | 122 | 10 | 8.20% | $1,500 |
| Apr 2023 | 57 | 5 | 8.77% | $3,000 |
| Total/Average | 365 | 33 | 9.04% | $2,625 |
Analysis:
Analysing these results has been tricky. There have been many internal debates about whether this experiment has succeeded or failed. Ultimately, it is a very nuanced experiment.
If you look at the numbers above, then you could argue that the experiment was a success. Considering ad budget alone, our average cost was $2,625 per paid conversion. With our estimated customer lifetime value of over $8,000, you could say that's not a bad deal.
The thing is that it's not just ad spend we've got to consider. If we factor in the cost of the SEO consultancy and the time our team members spent on writing and developing the high-conversion landing pages, then the actual cost of the experiment comes in at around $300,000.
That ramps up our cost-per-paid conversion to $9,090.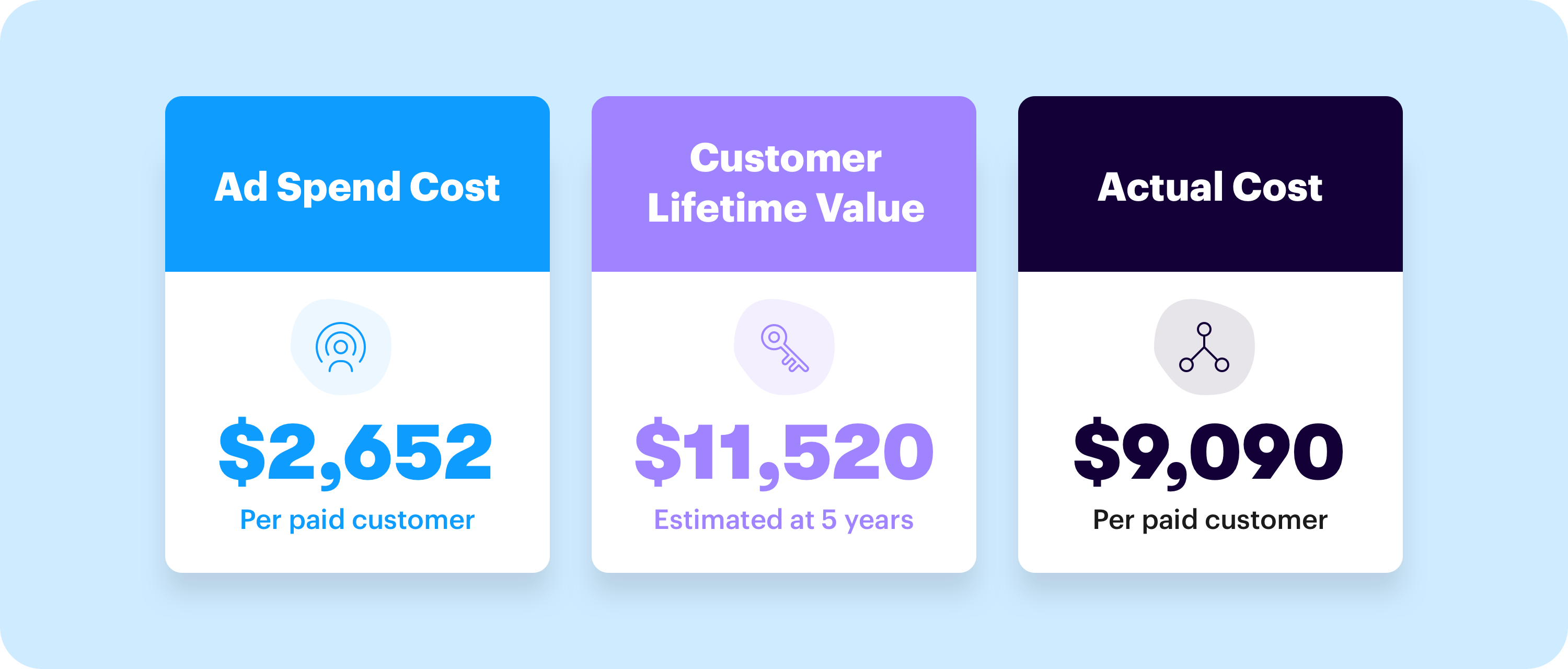 As you can see, we were left with a deficit of over $1,000 between the cost of acquiring a paying customer and the estimated lifetime value of that customer. Unfortunately we didn't manage to find the tipping point where the investment was worth the return.
There were also concerns at the visitor-to-trial level. The trials we got through PPC were not particularly high-intent. Once we had accurate tracking in place, we noticed that their usage was lower than the trials we got through other sources.
We can only speculate as to why this was the case, but the fact that we were not getting good quality leads through this campaign was a red flag.
In the end, the cost per paying customer wasn't netting out to be beneficial for Groove.
Key Learnings & Next Steps:
Competitive Market: As a help desk SaaS, we're playing in a very competitive market when it comes to PPC. The rewards can be great, but the risks are also high. So if you're thinking about PPC for your startup, we'd suggest giving some consideration to how competitive your market is before proceeding.

For now, we're putting a halt to PPC and opting to use other growth levers more extensively.

Challenges with Tracking: Tracking where new users have come from and monitoring their utilization of the product can be very tough. While there is a good argument regarding the privacy of users, we needed to know whether these PPC trial users were seriously considering Groove, or just kicking the tires.

We ultimately created a cookie based on the campaign URL and logged that against a user's userID, which we anonymized to ensure their privacy. But suffice to say, tracking is tricky.

High-Conversion Landing Pages While the experiment as a whole wasn't a clear success, the process of creating high-conversion landing pages was very insightful.

A high-conversion landing page is intent-driven and specific, so we could hone in on messaging and the value proposition. Through tracking, we could also see quickly what was working and what was not.

This is one of the key learnings that we'll be taking beyond the bounds of PPC and into our main site.
Become a member to continue reading.
Members of The Imperfect Startup get premium content like this article and other radically transparent startup growth insights.
Join us — it's free!