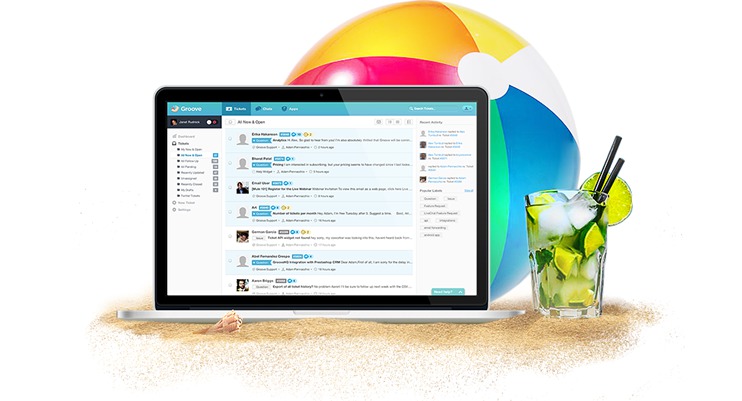 Does Startup Life Have
to Be a 24/7 Grind?
Last week, Andrew Wilkinson, the CEO of MetaLab (a Groove customer!), published an awesome guest post on PandoDaily taking the '24/7 hustle' startup culture to task.
Andrew gets eight hours of sleep, goes to the office for 5-6 hours a day and doesn't work on the weekends. Oh, and guess what? He's built a multi-million dollar company with more than 50 employees. Andrew concludes that because he works so few hours, he's forced to be more productive and delegate tasks that can be done by others. This makes him a more effective worker and a better leader, resulting in a stronger company (that, by the way, actively empowers all of its employees to achieve work/life balance, not just the leadership).
We love MetaLab's work. And we love Andrew's post. And we think this is a critically important issue.
He touches on the unsustainability of a never-stop-working lifestyle, and this is a really key point; burnout can be absolutely devastating for a startup.
If "hours worked" were less of a badge of honor for startups, would we see a lot more young companies going the distance and becoming big, stable industry leaders, instead of being tempted by the early exit? It's a lot easier, as a founder, to take the first offer that comes your way when you're exhausted, worn-down and haven't had a weekend in years. And it's a lot easier, as an employee forced to make huge sacrifices, to become resentful and less likely to produce the hyper-productivity startups require at such an early stage, as Mashable's CSO Adam Ostrow pointed out at SXSW this year.
Silicon Valley loves to idolize workhorse founders, and the lesson many extract from their stories is that if you want to be successful, you have to grind until you're bleeding from your eyeballs. But here's the thing: you're not Jack Dorsey, you don't need to run two huge companies, and you can build a profitable, sustainable business that delivers huge value to your customers, your investors and the startup ecosystem. And you can do it without sacrificing your relationships, your health and your life.
At Groove, we have a 40-hour work week. Our team works from wherever they want to, at times which they choose. They have families, commitments and interests outside of work, and frankly, we love that they're able to pursue those interests when the rest of the world is stuck in a cubicle. All we ask is that our team gets their work done in making Groove as great as possible for our customers.
What happens when you mix super-talented and dedicated employees with a flexible culture that makes them love their jobs? Well, we'll see, but we'll tell you this: Groove has nearly doubled its user base every month since our launch, and we're definitely not regretting passing up two early acquisition offers.
Yes, there are times when we have to push it. When a server goes down or a deadline looms and we absolutely need to put in the extra hours. But in our world, these instances are the exception, not the rule.
But don't take our word for it.
Read Ryan Carson's blog post about his own experience building Treehouse. It's absolutely mind-blowing what his team has been able to achieve with a four-day work week.
Alyson Shontell wrote a great piece in Business Insider showcasing how some startup founders deal with achieving balance. Most of them, including BI's own founder Henry Blodget, admittedly find it hard, but they recognize its importance and make it happen.
Christina DesMarais also featured 22 balance-hacking tactics in her Inc.com piece. Kirk Simpson, the CEO of Wave, offers a nugget of wisdom that has been our own mantra as well: "Hire solid talent and trust them to execute on their responsibilities."