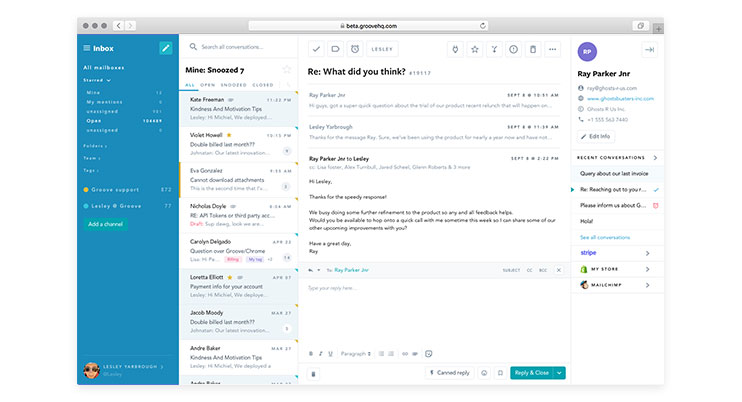 Groove 2.0 Beta is Open for Business
Introducing Groove 2.0 Beta — up to 8× faster, rock-solid stability, better collaboration, powerful new reporting, and a whole new Knowledge Base.
It's a big day here at Groove⁠—a day we know many of you have been waiting for since we first teased it a little over a year ago. It's been a long road and a lot of hard work from everyone on the team to get here, and we are thrilled to announce that the Groove 2.0 beta has arrived!
Starting today, all of the Groove 2.0 apps⁠—Inbox, Knowledge Base, Reports⁠—are ready for customer testing. Likewise, we are both ready and excited to hear your feedback.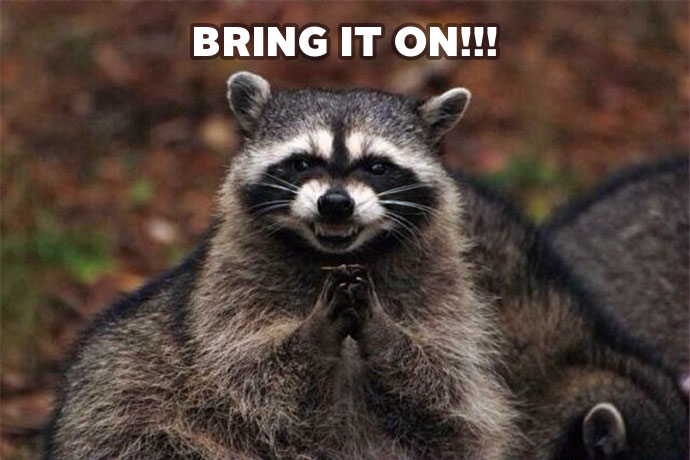 Beta access will be rolled out incrementally to all accounts over the next few days, and for the rest of the month, we'll be all hands on deck to continue pushing out improvements and fixes as fast as we can. During this time we encourage you to send us any and all feedback that comes to mind. We just ask you to keep in mind that this is still beta, which means there will be some issues that we missed. (We're confident that you can blame most of them on Glenn.)
To check out the new Groove, simply click the link in the bar that is now showing at the top of your Groove account. And not to worry, we know change is hard, so you can always switch back to the old app during the beta period if you need to do so. If you don't see the bar just yet, hang tight and you'll see it soon.
Now, let's take a look at what's in store for you when you log in. :)
A New Foundation
Groove 2.0 is more than just a new coat of paint. Groove has been completely rebuilt from the ground up. All of it.
Built for speed — Groove 2.0 is up to 8× faster than the legacy version. Conversations load in an instant, search results are returned quicker, and the UI is designed to help agents do their jobs faster.
Built for reliability — Groove 2.0 has a new real-time infrastructure, which means updates throughout the app happen in real-time and your teammates are always on the same page.
Powered by search — Searching in Groove 2.0 has been rebuilt so it's faster, more robust, and more precise; giving agents the ability to find just what they're looking for.
Customizable workspaces — With resizable panes and starred searches, tags, and folders, Groove 2.0 allows agents to customize their individual inbox views so that it's easy to prioritize what's most important while working in a comfortable view.
Better looking emails — Groove's parsing and HTML rendering engines have been rebuilt so that your conversations look good too.
Built for the future — Last but not least, rebuilding Groove boosts our development velocity going forward. That means quicker turnaround on features, integrations, and bug fixes.
Inbox 2.0 — A Better Way to Collaborate
Two words: readability and usability. Groove Inbox 2.0 has been built with a lot of thought and consideration for helping customer support agents and managers do their jobs as effortlessly as possible.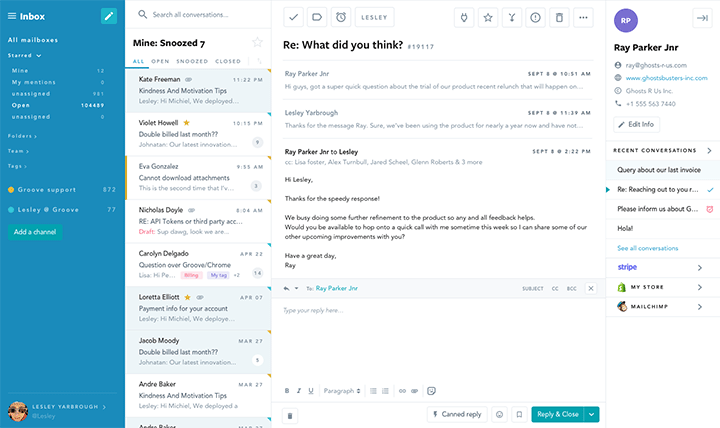 The new four pane layout shows you everything you need in a single view.
From the left navigation menu, you can:
Quickly access your starred items, so your most important conversations are always just one click away.
Browse your custom folders, teammates, and tags.
Switch between separate mailboxes.
The conversation list allows you to:
Quickly scan conversations and see important details.
Make bulk updates to multiple conversations at one time.
Sort by oldest or newest to help prioritize your workflow.
Type queries into the search bar at the top of the list to quickly find conversations without having to leave your current view.
Differentiate between mailboxes using color coding.
The conversation page is where the magic happens. The top of the page is where all of the conversation actions are located:
One-click Close & Open status changes.
Assign conversations to teams and/or teammates.
Add and manage tags with new custom color options (NEW!)
Snooze a conversation.
Integrations for Trello and GitHub (NEW!)
Star a conversation as a priority.
Merge conversations.
Report as spam.
Delete a conversation.
Move to another mailbox.
Mark conversation as unread (NEW!)

Some noteworthy additions and improvements to the email content on the conversation page include:
Collapsible and expandable messages — focus only what you need to read.
Automatic collapsing of quoted content within messages, so you don't see the conversation repeated over and over again.
Better display of HTML emails like newsletters and tables.
Direct links to messages within the conversation thread.
Options to reply or forward individual messages from the conversation thread.
The new reply editor has been designed so agents can focus on their typing and not the tool. Intuitive controls make it easy to:
Format text.
Insert links and images.
Change the subject.
Change the mailbox.
Add Cc or Bcc emails.
Switch between regular replies, forwards, and internal comments.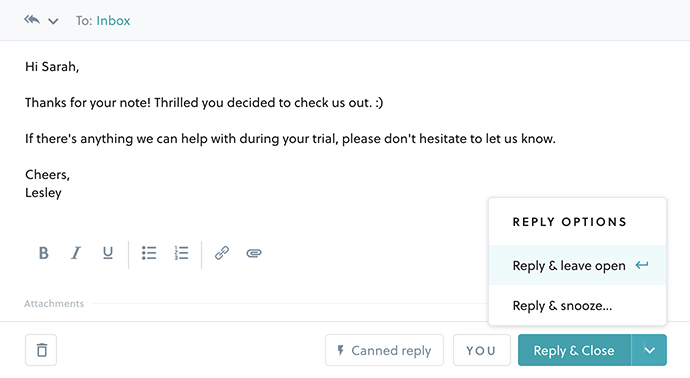 The right sidebar has been overhauled to make it even easier to display important details about your customers via our custom profile app or new sidebar integrations for Stripe and Shopify.
Or if you simply want this sidebar to get out of your way, you can use the new collapse feature to hide the pane and let you focus on other things.
Along with a new layout, Groove Inbox 2.0 brings with it a variety of features and improvements. Most notably:
Mark as unread — Nothing too fancy here, just a simple "mark as unread" action under the more menu so that your teammates don't miss a new reply from the customer.
Trash folder — Deleting conversations is no longer a scary, permanent thing. Using the new search qualifier for "is:deleted" you can both browse through your deleted conversations and also see which agent performed the delete action.
Mentions section — Using the 'mentions:' search qualifier, now you can easily see the conversations where you or your teammates have been mentioned in an internal comment.
Send & snooze — Saving clicks is the name of the game and now you can send a reply while snoozing the conversation in a single action.
All new shortcuts — Our list of available shortcuts has more than doubled so that, if it's your thing, you can work through conversations in Groove without ever touching a mouse.
Search qualifiers — In addition to searching mentions and deleted conversations, the new search qualifiers give you the power to find any type of conversation in your account.
Collision detection — New and improved collision detection works more reliably and makes it obvious when another agent is already working on a conversation.
Now, when you need to get to different parts of the app, you can click the menu icon in the top left of your screen and another panel will slide out with links to your Reports, Knowledge Base, and Settings.
Reports 2.0 — A Better Way to
Track Performance

Groove Reports have also been completely rebuilt and upgraded from a single page overview with basic stats, to a robust reporting app with meaningful metrics that provide valuable and actionable insights into your customer support performance.

Reports 2.0 are now divided into sections so you can explore the different areas that make up your customer support.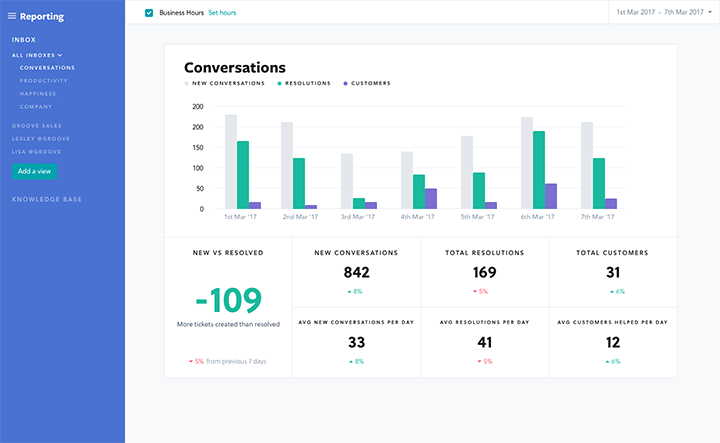 Conversation reports give you a bird's-eye view of key metrics for the conversations that you're having with your customers.
Total conversations (new and existing)
Total customers helped
% Resolved conversations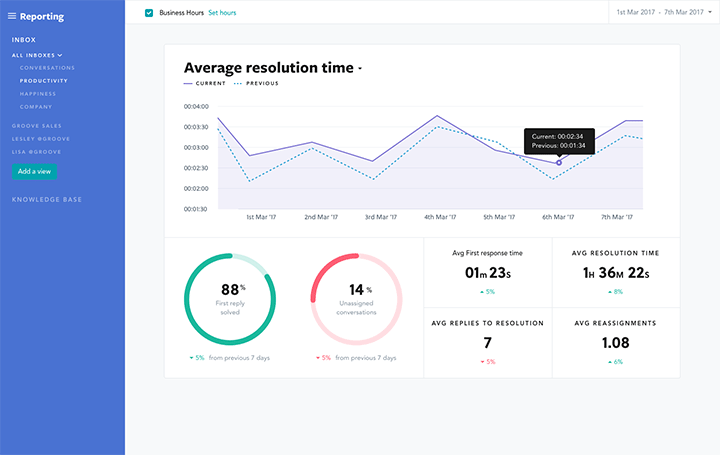 Productivity reports allow you to gain valuable insights into the efficiency and overall health of your communication with your customers.
Average response times
Average time to resolve a conversation
% first reply resolved
Average replies per resolution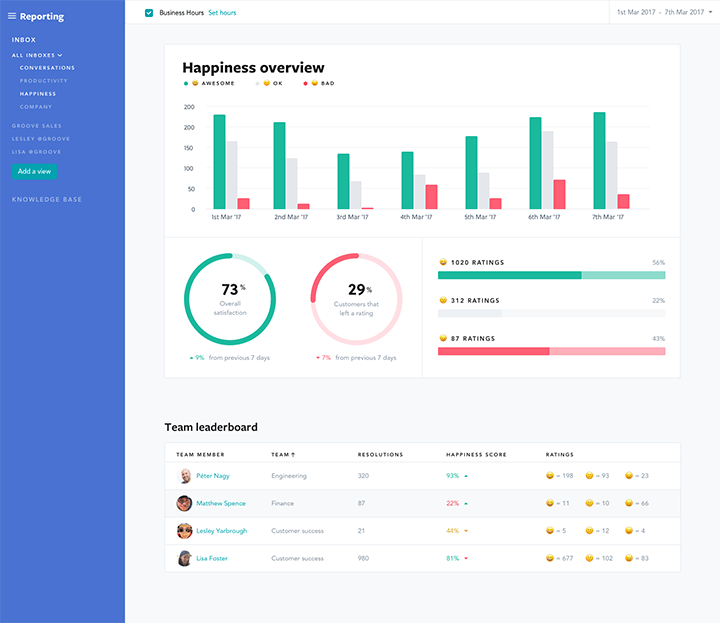 Happiness reports are visible when you have Customer Satisfaction Ratings installed for your account, and provides an overview of the overall sentiment for your past conversations with your customers in a quick and easy view. Here you can see:
Ratings overview
Overall happiness score
% of customers that left a rating
Team happiness leaderboard
Rating history table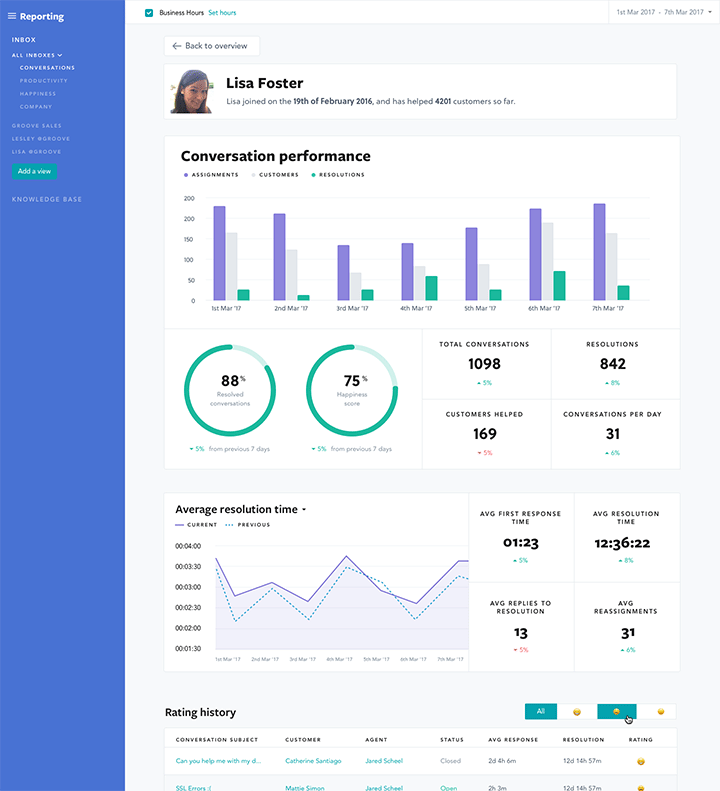 Company & Team reporting provides insights into how individual agents and teams are performing with key metrics such as:
Total conversations
Total resolutions
Overall happiness score
Total customers helped
Conversations per day
Reports 2.0 also includes two new features that give you more control over your data:
Calendar control — set custom date ranges so that you can dig into your metrics for any time period.

Business hours — set your company business hours so that you only see metrics within those core hours, allowing you to truly see how your team is performing.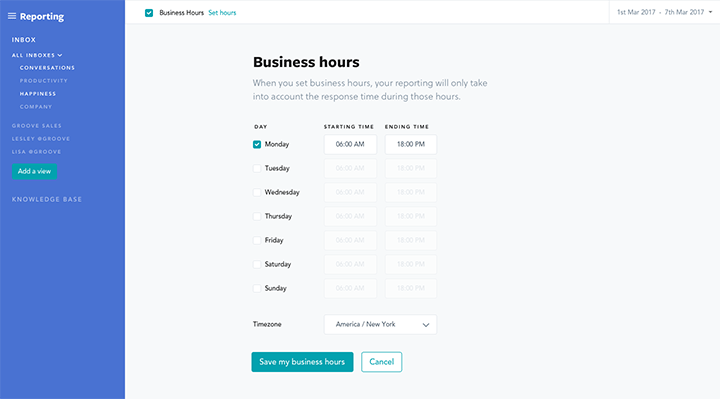 Knowledge Base 2.0 — A Better Way to Create Help Content
With the Groove Knowledge Base 2.0, creating a kick-ass, branded, mobile-ready, SEO-ready knowledge base has never been easier.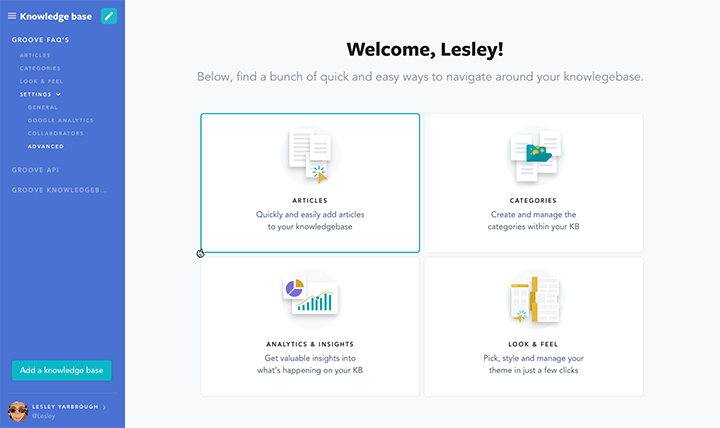 The new KB has it all⁠—a new backend CMS for creating and managing your KB design and content, fresh new themes that make it easy for your customers to find exactly what they need, and helpful stats so you can always be improving your content to get the most out of your KB.
Our goal was to make managing your KB content feel fresh, fun, and groovy.
Instead of trying to work in a tiny window, you now have a proper CMS for managing your content.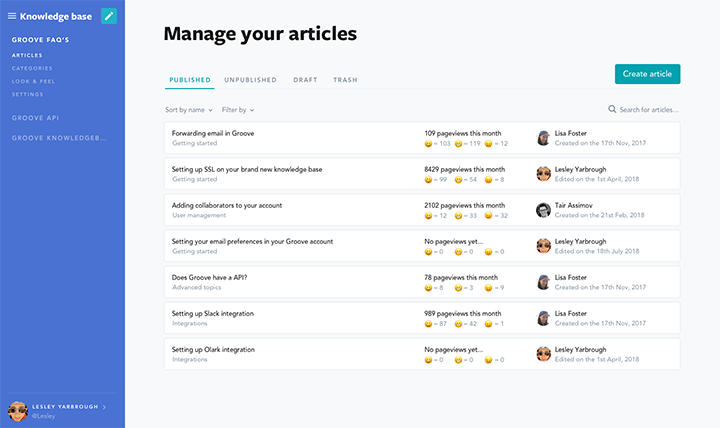 In the article overview screen, you can browse through your articles by state and within those lists you can filter by things like category, author, and keyword to find just what you need. You can also see stats at a glance and identify which articles are performing well and which ones may need some attention.
You'll notice that there is also a trash folder for your articles, so you don't have to worry about articles being permanently deleted by mistake.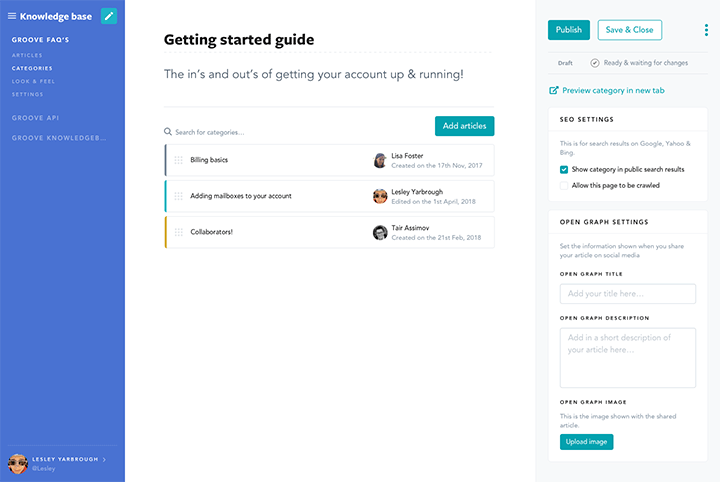 The category overview shares a similar UI to managing articles, and includes a more intuitive way of managing articles within the category, making for a much more consistent experience overall.
To change the order of your articles or categories, simply drag them around.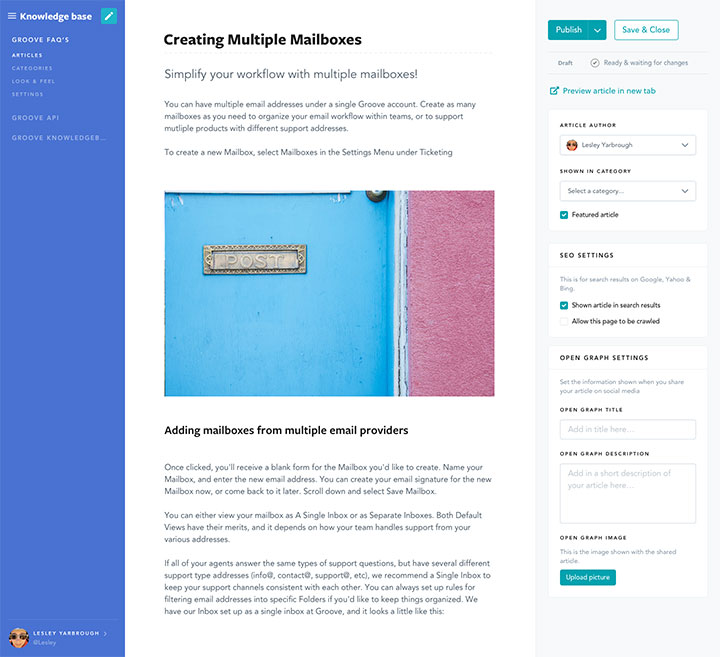 The article editor has been given a major upgrade so it feels modern, elegant, and makes writing your content an absolute breeze.
In addition to looking about 1000x better, the new article editor includes new features and improvements like:
New Rich Text WYSIWYG Editor — Easily add formatting to your text and insert images, videos, and codeblocks into your articles.
Automatic Cloud Saving — Changes are saved automatically so you never have to worry about losing your work.
SEO Settings — All SEO meta data is easy to setup & configure (author, title, description, language, etc.) and you now have the option to decide whether you want your article crawled or displayed on Search engines.
Open Graph Settings — All open graph meta data is setup (author, pagetype, language, etc.) and you can choose the title, description, and image that is shown when sharing your articles on social media and instant messaging platforms.
The new category editor also gives you more control over your categories and makes adding and ordering articles within your categories a smooth, simple process.
Category Descriptions — Set a description for each of your categories so your customers know exactly what's included.
SEO Settings — Just like with articles, you can configure meta titles and descriptions, as well as deciding whether you want your category crawled or displayed on search engines.
Open Graph Settings — Set open graph titles, descriptions, and images that are shown when sharing your categories on social media and instant messaging platforms.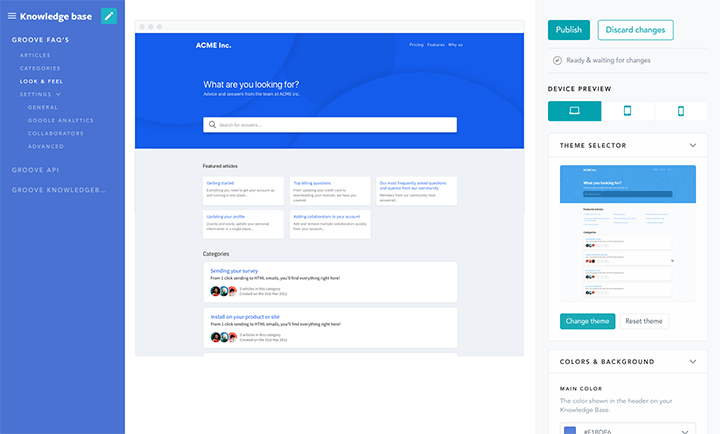 With the new theme editor you have the option to select from three different themes, allowing anyone to have a great looking KB right out-of-the-box, without needing assistance from a developer.
Each theme offers a slightly different look and feel that can also be further customized to suit your style and needs. No technical knowledge is required to update your:
Header Image — Add a bit of flare to your knowledge base by using one of our (or one of your) very own header images.
Navigation Links — Add in your own navigation items at the top of your KB to help users navigate back to & around your site.
Logo & Favicon — Put your brand front and center with your own logo and favicon.
Custom Colors — Maintain your brand's aesthetic by using your own color palette.
Custom Fonts — Choose from the very best of fonts from both Adobe Typekit & Google Fonts.
All themes are highly optimized for knowledge base content, with a focus on usability and navigating around with ease. The themes have also been optimized for mobile use, so your customers can have the same, seamless experience regardless of the device that they're on.
A huge addition in Knowledge Base 2.0 is the ability to manage Multiple KB's. So if your business has multiple brands or products, it's now possible to create a separate knowledge base for every brand/product you need to support.
Knowledge Base Reports 2.0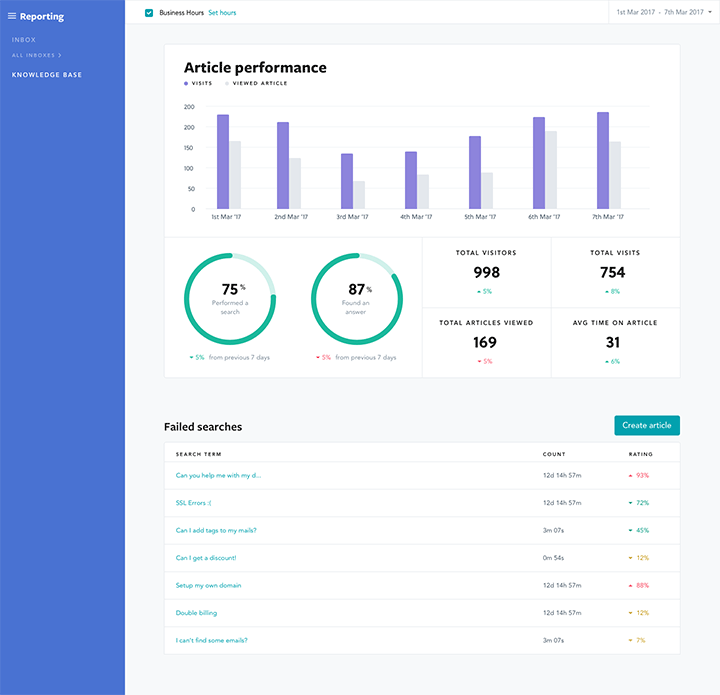 With a refresh of the KB also comes a refresh of the reporting. Now you can track things like:
Failed Searches — See what searches aren't returning articles for your customers and adjust accordingly.
Popular Searches — See what the top searches are and spot trends before they turn into bigger issues.
Best & Worst Performing Articles — See which articles are A-OK and which ones may need a little love.
Pageviews — See the articles that are getting the most and least traffic in your KB.
Total Visitors & Total Visits — See how much action your knowledge base is getting.
Next Level Integrations
Yeah that's right, we're not done quite yet.
For the release of Groove 2.0 we have updated some of our existing integrations and added a few new ones into the mix.
Twitter — our Twitter integration has been updated to include support for:
280 character replies
Emojis
Direct Messages!
Facebook — our Facebook integration has also been beefed up with support for:
User posts
Comments on user posts
Threaded comments
Private messages (coming soon)!
Trello (NEW!)
Create a card from a conversation
Add a conversation to an existing card
GitHub (NEW!)
Create an issue from a conversation
Add a conversation to an existing issue
Shopify (NEW!)
See customer order details in the right sidebar
Easily access this customer in Shopify right from your Groove conversation
Stripe (NEW!)
See customer details in the right sidebar
Subscriptions & plans
Payment history & status
---
Whew! Pretty big, right? We know it's a lot to take in, so we've written some getting started guides to help. Head on over to our brand‑spanking‑new knowledge base to check them out.
Your feedback is super important to us during this beta phase, so we ask that you please do not hesitate to contact us if you run into any issues or have any thoughts you'd like to share.
We hope you enjoy the new Groove and happy testing!