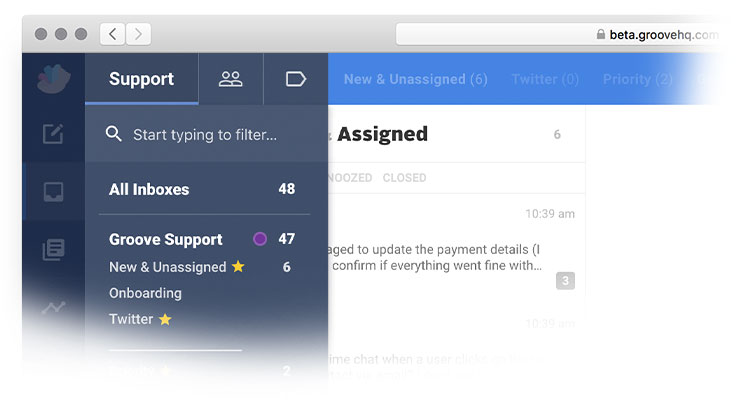 What We Shipped in March
More Groove 2.0: Nav Enhancements, Keyboard Shortcuts, and More!
This is part of our ongoing monthly series, 'What We Shipped' that highlights our most recent product updates and enhancements. Our earlier posts can be found
here
.
For the last month our team has been working hard to get updates out the door as quick as we can, based on the amazing feedback we've been getting from customers on Groove 2.0. If you haven't checked it out yet, you can sign up below for beta access and take it for a spin!
Navigation Updates
It became clear early on that people were struggling with the new navigation in 2.0. The folders people were used to seeing were hidden and instead our new defaults were at the top of the page, which caused a lot of confusion. We were listening and we've changed the navigation to make it feel more like home.
Our goal here with the top and left navigation is to help clear the clutter, so you can focus on what you're working on, and also give you easy access to the folders and searches you use the most with one-click access to everything in the top navigation bar.
With this update, your top navigation matches the folders that you had set up in legacy Groove. When you log in now, you'll see familiar names up at the top of your screen and you can dive right into the folders you've been using.
We've also changed it so that every time you load the app, it defaults to whatever folder you have in that first position in the top navigation.
The "All Inboxes" link was moved to top navigation as a dropdown list to make it more visible, and we also added color coding for different inboxes, so you can see at a glance which inbox a conversation is in.
Folders have been moved from their own dropdown list and are now nested under the inboxes in your inbox list. This mirrors the UI from most major email clients and keeps your inboxes and folders together in one place.
Most importantly, the inbox dropdown now shows open conversation counts in each inbox, as well as the folders within the inboxes, so you can see at a glance what's going on in your account.
Remember, everything at the top is customizable. You can add and remove things from that top bar, and you can also drag them around to change the order to whatever works best for you. With the updates to the inbox, team, and tag dropdown lists, you can easily add and remove items from your top navigation directly from the list by clicking the little star icon.
A couple of smaller tweaks include a "more" dropdown for your top navigation searches/folders, so when you have more than will fit in the top bar, you will see a "…" that you can click to view the other items in a dropdown.
Mentions were also updated from "@name" to "My Mentions" to avoid confusion.
Keyboard Shortcuts
We've beefed up our supported keyboard shortcuts so you can navigate the app and take actions easily without needing to click. For example 'R' now opens the reply editor and ';' expands all messages in a conversation. To view the full list of supported shortcuts, type '?' when you're in the app.
Drag & Drop Attachments
Drag any file anywhere on your screen when you're viewing a conversation to quickly attach that file to your reply.
Added is:assigned Search Filter
Until now you had the option to see conversations that were not assigned to anyone. With this addition you can see all conversations currently assigned to other users. Use one of the additional search qualifiers, like is:open, to narrow down the results.
You can also click on this search filter directly from the team dropdown in the top navigation.
Attachments For New Conversations
Attachments on new conversations were missing temporarily and now they are back, baby.
Polish & Improvements
One-Click Bulk Starring
When bulk updating conversations the star priority button is no longer hidden in a submenu and instead visible at the top of the list.
"Pinned" Items Updated to "Starred" Items
Previously the searches and folders in your top navigation in 2.0 used a pin icon to add/remove them, and now this has been updated to a more familiar star icon. Remember: you can click the star either at the top of the conversation list you are currently viewing, or you can click it from your inbox/folder list in your left navigation menu.
Click Anywhere to Collapse Messages
To collapse and expand messages within the conversation thread, you can now click anywhere at the top of the message.
ESC Key Closes New Conversation Form
This awesome suggestion came from a customer. When you have the new conversation form open, you can hit the 'esc' key to close it quickly without having to use your mouse.
Bug Fixes
We've been crushing bugs left and right and some of the more notable ones are:
Cross-browser fixes for Safari and Firefox
Grammarly issues in reply editor
Send button pushed off page with long replies
Unable to star conversations using button at top of page
Issues with long inbox names being shortened
Searching numbers throwing an error
HTML formatting not being maintained in canned replies
Background colors carrying over in pasted text
Search form not working when merging conversations
Coming Up Next
Parsing 2.0
We are moving right along on Parsing 2.0. The backend is in place and now we are working on fixing backend bugs, making it work with different email clients, and getting the pieces in place that will allow us to roll this out slowly and ensure that nothing blows up in the process.
List Sorting Options
First we will be porting over the sorting options that are available in legacy Groove. Then we will be looking at what kind of smart sorting options we can add.
Mark as Unread
Whether you're a manager checking in on conversations or an agent who clicked on something by mistake, you'll be able to return it to an unread state.
Lots of Polish
There are a lot of little improvements coming up for merging, timestamps, attachment, phone conversations, and much more.
---
Huge thanks to our customers who have participated in the closed beta to give us their feedback on Groove 2.0. If you like what you see and are interested in beta access, sign up below!